Beetroot Hummus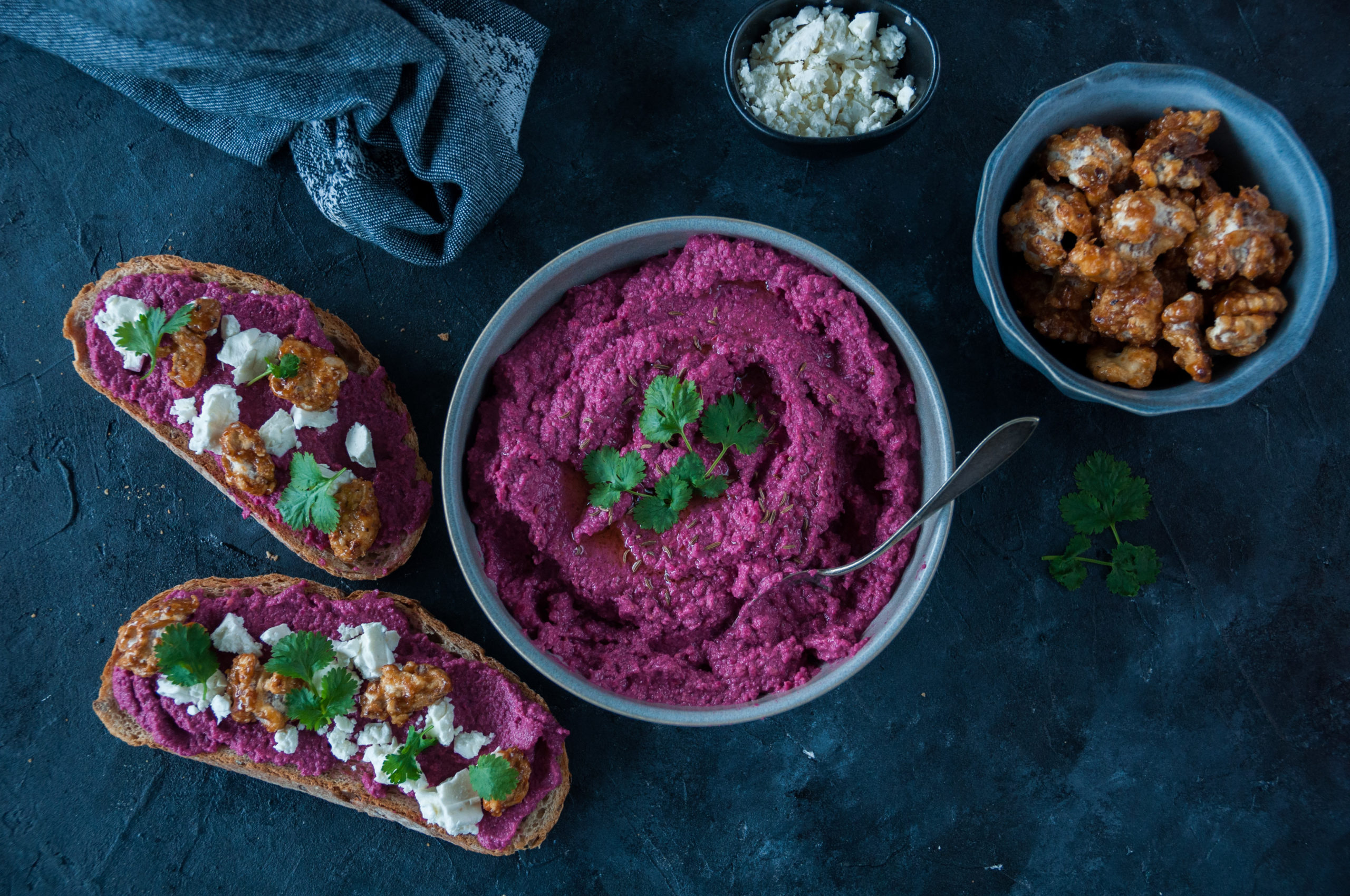 Or maybe beetroot spread…? Not sure that we are allowed to call hummus a recipe that does not contain chickpeas..! Anyway today I give you a recipe largely inspired by my time in the Courtyard Deli's kitchen in Falmouth. It was a classic on the menu and it had been a long time since I had made it this way.
Let's be clear, there's hummus all the time at home. But today we are making a fancy version of it. Indeed it's served with a good sourdough bread (well, not on my pictures we had eaten it all …!), feta and caramelized walnuts (you can see why it's a fancy toast now!). The hardest part is obviously making the caramelized walnuts, but if you want to, you can simply make the beetroot spread and serve it as an appetizer or as a base for a good sandwich.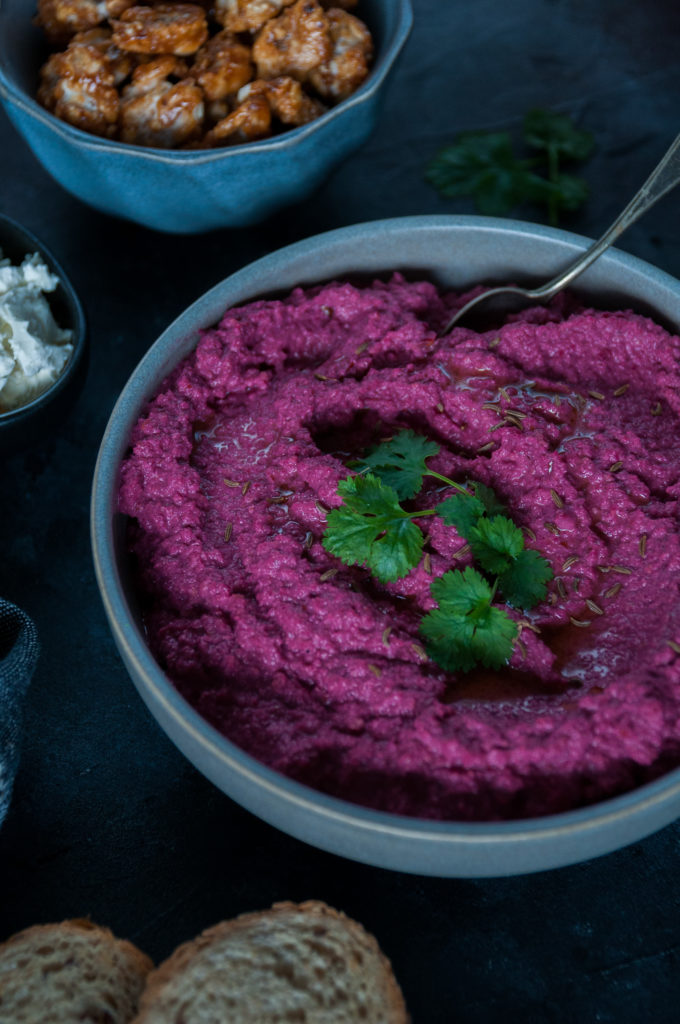 I couldn't find the exact recipe from the Deli so I did some memory work, follow my taste and it took me back in Falmouth (#missfalmouth). This hummus is made with beetroots (don't thank me..), and this time I have used vacuum packed beetroots because I had some in my fridge. If you really want to take this hummus to the next level, roast your beets in the oven. I explain to you: wrap the beets previously washed with their tops removed in foil (Please remember to put the shiny side on the outside!!). The foil will keep the beetroots from drying out. Place them in a baking dish and in the oven preheated to 180°C for 1 hour. Cooking may vary depending on the size of the beets, check that they are cooked through with a sharp knife.
Once this step is over, all you have to do is mix the cooked beetroots with roasted walnuts, lemon, olive oil, garlic, tahini, a little bit of cumin, in short the usual ingredients for hummus (except walnuts I know!).
Just add a good slice of bread, feta, caramelized walnuts and with a small green salad you will get a balanced and tasty lunch! Bon appetit!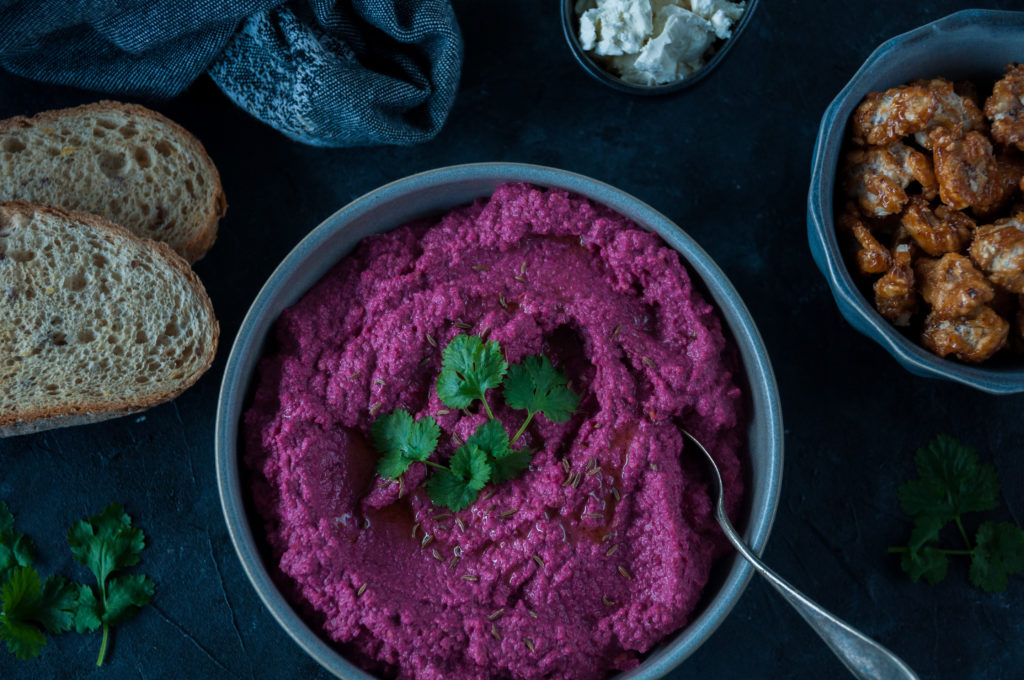 Beetroot hummus
Ingredients
500

g

beetroots

(vacuum packed or cooked in the oven, see above)

100

g

walnuts

(toasted in the oven at 170°C for 10 minutes)

Juice of one lemon

1

garlic glove, degermed

1

tbsp

tahini

2

tbsp

olive oil

1½

tsp

ground cumin

Salt and pepper
Instructions
Put all of the ingredients in the bowl of your mixer and mix until you obtain a smooth and homogeneous texture.

If the mixture is too dry, add a little bit of olive oil.

Check the seasoning and adjust if necessary.
Notes
If you want to add caramelized nuts, the method is quite simple but caramel is often scary.
All you have to do is heat 100g of sugar with 5cl of water in a large pan. When you get a thick syrup (around 110°C if you have a thermometer) add 110g of walnuts all at once.
Here comes the delicate moment, you have to stir constantly to prevent the caramel from burning, scraping the bottom well. You will spend a few minutes thinking that it's a failure, the caramel will become like "sand" and turn white, that's normal, keep going!!
Then gradually you will see the sugar melt again and take on a nice color, if it heats up too quickly, remove the pan from the heat, continue to stir and put back on the heat. There should be no uncaramelized sugar left.
Doing this exercise with walnuts is not the easiest because there are a lot of small bumps where the sugar goes. You can start training with almonds or hazelnuts, I'm pretty sure you will enjoy it too :).
Here is a recipe that is quite easy to make for your appetizers. I now have to try the crackers that François Régis-Gaudry posted on his instagram account to try them with this beetroot spread, I'll let you know!
Have a nice day !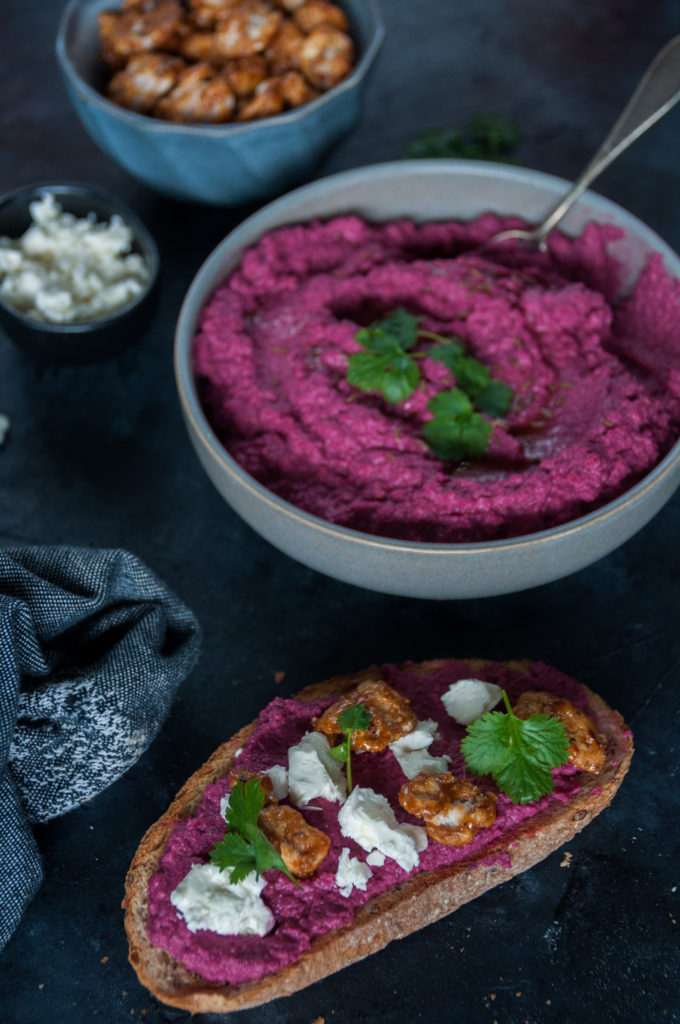 ---
---