English muffins for great breakfast!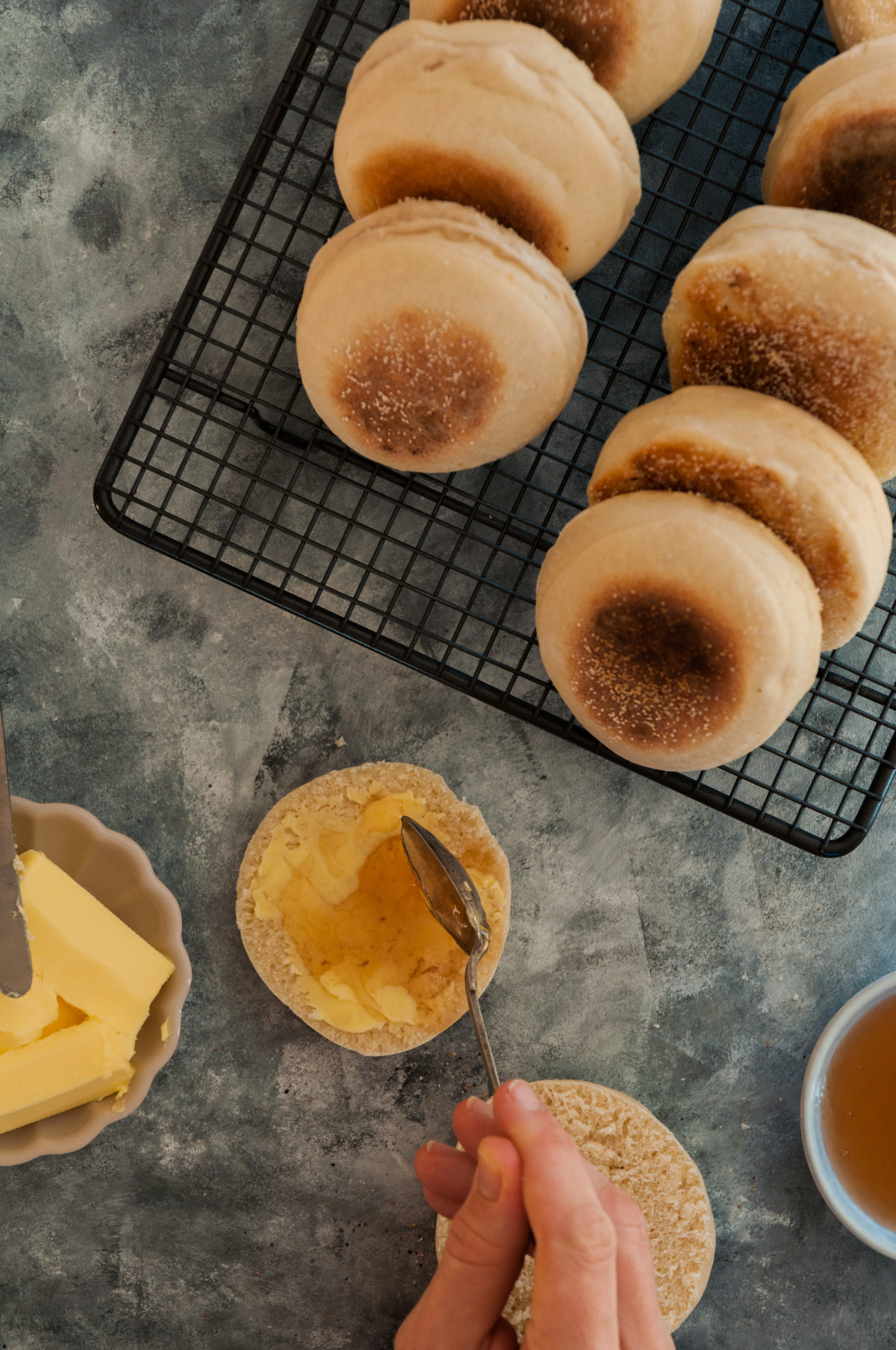 Breakfast is an institution at home, we don't start a day without a complete breakfast as often as possible. Sweet, salty, bread, porridge, pancakes, brioches, we love it all! During the week we try to keep it simple, time is running…! Because of that we do often this English muffins recipe to simplify our breakfasts in a hurry, you just need to put them in the toaster few minutes and they're ready to eat, dreamy isn't it?
A little explanation may be necessary!
Maybe you don't know these fluffy flatbreads? I've been following Pascale Weeks' blog for years and she made me discovered these Anglo-Saxon breads a very very long time ago!! We ate a lot of them when we lived in England (I much preferred them to crumpets but that was not everyone's opinion!). I have baked it often and then I left the recipe in the back of my mind. I come back to it when I need bread for breakfast quite quickly (I don't bake them in the morning, let's not exaggerate, let's give these little ones time to rise…!). Their particularity comes from the shaping and cooking. For the shaping, it is a leavened dough that we just roll out then cut with the help of a large round pastry cutter. Then the cooking is done in a frying pan, which can destabilize a little at first, how do you know if it's cooked inside without burning the outside? So let's go slowly, tame your frying pan and your English muffins and it's done ;D! Some people prefers to finish the cooking in the oven, it can be a solution if it reassures you. I am ok with the frying pan, I put it on medium heat, cook the English muffins for about 6-7 minutes on each side and generally that is enough!
For the filling you can choose, from the classic English combo eggs-bacon-tomato beans, or the classic French butter and jam. We have a preference for the simple layer of salted butter. The crispy-soft texture satisfies me perfectly. I also like to add a slice of emmental or avocado to turn it to an avocado toast. Of course we do love it with eggs: scrambled, fried, poached, take your pick!
In short, as you will have realized, we love English muffins! Today I'm giving you a simple recipe with only white flour. In UK I sometimes found some them with wholemeal flour, I will make some trial at home and if it turns good I will let you know ;). And maybe even a recipe that would use my sourdough, that would be the winning combo!!
Can't wait until tomorrow morning to bite into one of these softness with a good hot tea!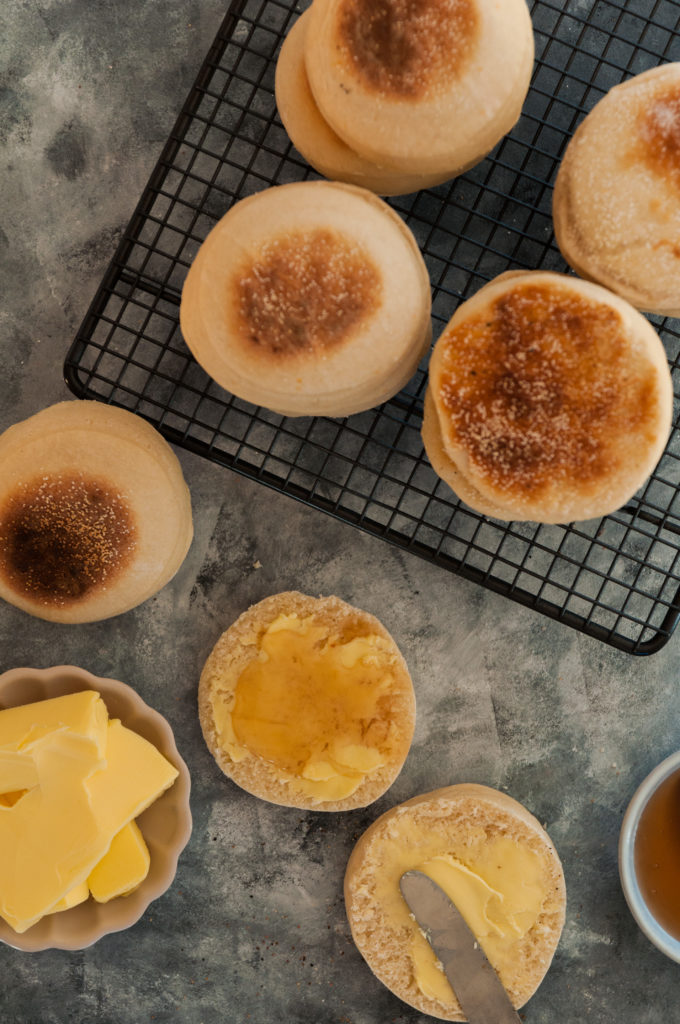 English Muffins
Ingredients
450

g

flour

1

tbsp

sugar

1

tsp

salt

8

g

fresh yeast

(or 1 bag of dry yeast)

27,5

cl

milk

Semolina
Instructions
Slightly warm the milk, but be careful too hot milk will stop the effects of the yeast, so just warm! Then dissolve the yeast in the milk.

In the bowl of the stand mixer, put the flour, salt and sugar. Then add the milk-yeast mixture. Knead for 10 minutes at speed 2. If the dough is too dry add a teaspoon of milk at a time and if it is too wet add a little bit of flour.

Let the dough rise somewhere warm for about 1 hour, until the dough doubles in volume.

When it has risen, put a bit of semolina on the working surface and roll out the dough to one centimeter thick. Using an 8 cm diameter cookie cutter, cut out the muffins and arrange them on a baking tray with semolina. Reform a ball of dough, roll it again and continue to detail as many muffins as possible. The last one will certainly not have a conventional shape but it will serve you to taste your production before offering it to your guests!

Cover them with a clean tea towel and let rise for half an hour.

Then the cooking: heat a non-stick frying pan or a cast iron pan over medium heat without adding fat. Arrange the muffins in the pan and cook on each side for about 6-7 minutes. Be careful that the outside of the muffins does not become brown too quickly and end up burned before the inside is cooked. Do not hesitate to lift the muffins to check the cooking progress.

Leave them to cool on a wire rack, cut them in half lengthwise, grill them or not (your choice!) and enjoy!!
Notes
For the cooking, if it gives you too much trouble, you can finish it in the oven at 180°C for 6-7 minutes.
Don't forget to keep a baking tray line with baking paper next to you to arrange the muffins after cooking in the frying pan.
Treat yourself and have a nice autumn day, this is definitely my favorite season. I can't get enough of these beautiful colors. As soon as I get a little down, I go out into the forest and everything seems to be better there!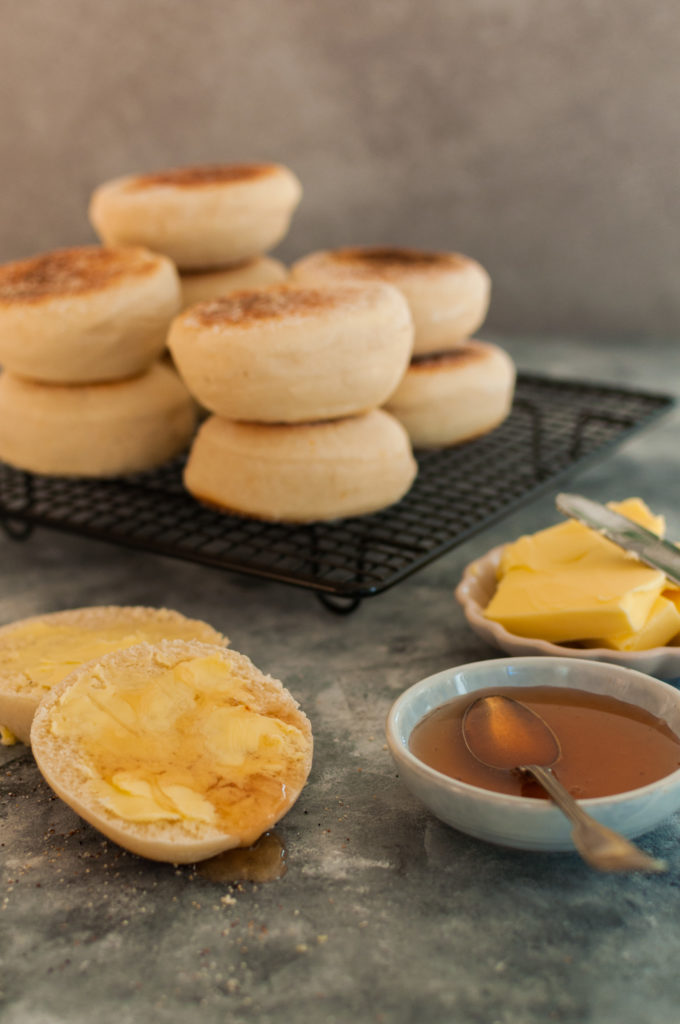 ---
---