Red Pepper and Feta Tart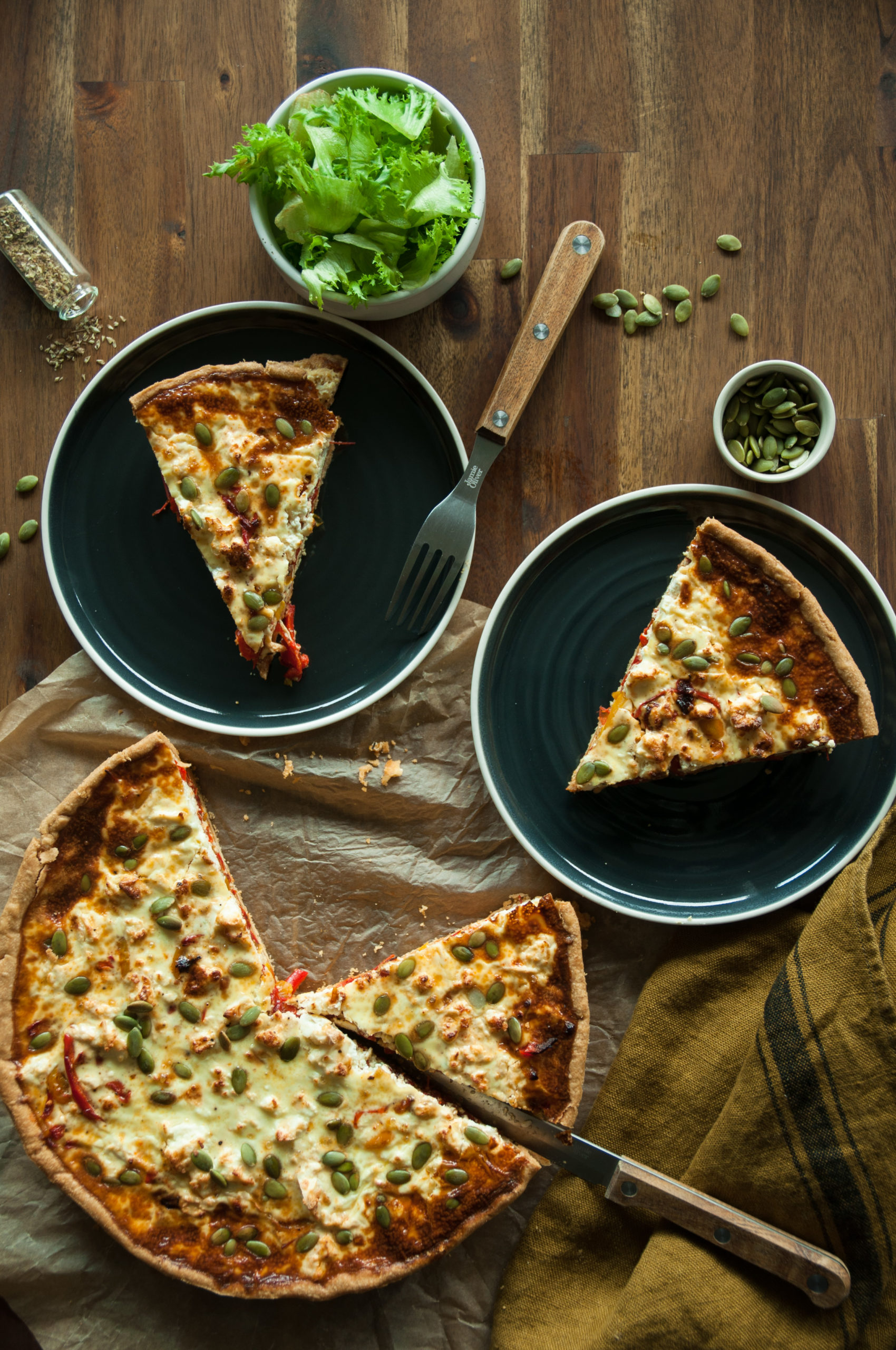 Ok, I know I'm a little bit late with this recipe but I wanted to post it anyway because we loved it: a red pepper and feta tart. The red pepper is a vegetable that we eat a lot at home, as a snack, grilled or in jars in winter, we love its little taste of sunshine! And pies and quiches are also a classic with us, so I had to combine the two.
I promise it's easy to make 🙂
This pie is simple to make but it takes some time if I am honest. Especially if you make your homemade shortcrust pastry, which of course I recommend! If this is not possible for you, if you are short on time and you want a meal quickly on the table then you can opt for a store-bought shortcrust, but please take a good quality one!! Here is a tip for having homemade shortcrust pastry ready to use: multiply the quantities of the recipe by four, divide your pastry obtained into four balls, film each ball separately and freeze. All you have to do is take it out the day before and leave it to defrost in the fridge until the next day.
Another tip to have an even faster meal for lazy evenings (yes here we are again…). I cut the tart in individual portions and then freeze them. Whenever I want to have a slice I put it in the oven directly from the freezer and there is nothing left to do but to prepare the side salad. There you go, the meal is ready in no time at all!
Red Pepper and Feta Tart
Servings:
6
portions (or 4 big eaters!)
Ingredients
Shortcrust pastry
250

g

pastry flour

125

g

butter

20

cl

water

1

egg

1

pinch

of salt
Filling
3

red peppers

(I mixed red and yellow peppers but it's up to you!)

150

g

feta

(if your package is bigger you can keep some to put in your side salad :))

3

eggs

20

cl

single cream

10

cl

milk

Salt, pepper, oregano and thyme

Sunflower seeds
Instructions
Shortcrust pastry
In the bowl of your food processor fitted with the flat beater, or in a bowl using your hands, sand the flour and butter. There should be no large chunks of butter left.

Add the egg and salt, mix. Add the water and knead until you get a ball of dough. It is not necessary to overwork the dough but be careful that there are no large chunks of butter.

Put the dough in cling film and leave it to rest for an hour in the fridge. I often make the dough the day before, it slightly reduces the preparation time for the next day.

After an hour, preheat the oven to 160°C. Roll out the dough and line your tart case. Line it with baking paper and dried beans for blind baking. Bake for 30 minutes, removing the beans after 20 minutes.
Filling
Cut the red peppers into strips and fry them in a drizzle of olive oil. Cook until the peppers are soft and lightly grilled, season with salt and pepper. Add thyme and oregano.

While the red peppers are cooking, prepare the filling (called "migaine" in the East of France). Beat the eggs, add the single cream and milk, whisk well and season.

Arrange the cooked red peppers on the pre-cooked tart base. Crumble the feta over the red peppers and pour in the filling. Finally sprinkle with pumpkin seeds.

Raise the oven temperature to 180°C and bake the tart for 30 minutes.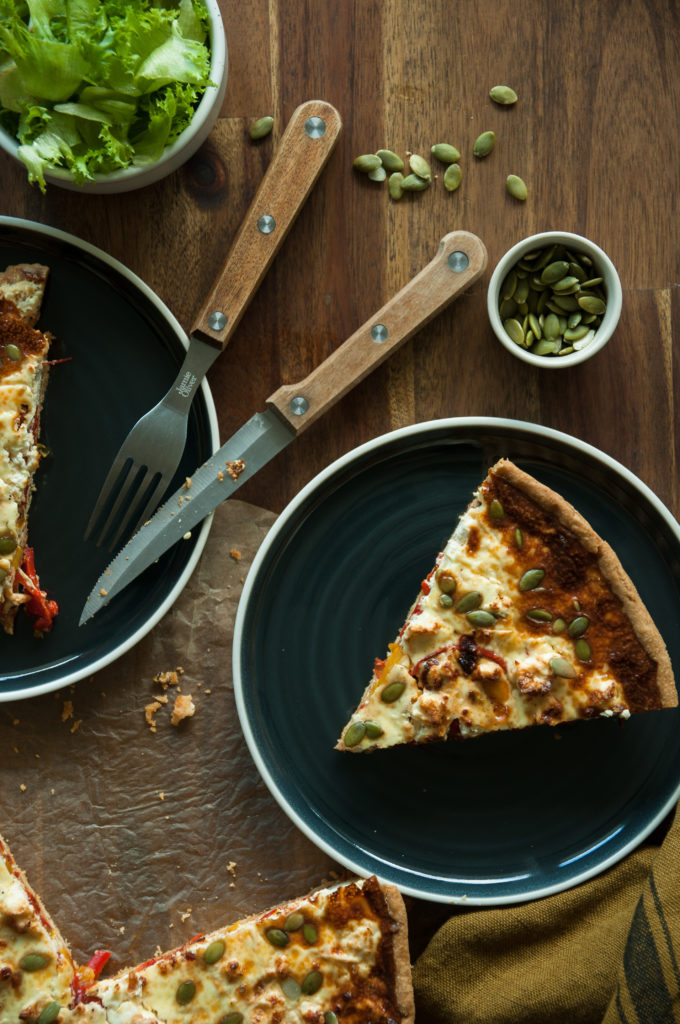 I know, I know I'm a little bit behind the seasons… But this recipe was ready for a long time, I just took time to publish it… You know how September looks like, it's the same for everyone! So let's say to ourselves that this is the very last summery recipe before autumn! Okay okay… here it is already fall since weeks!! Well I have no excuses then, I hope you enjoy it anyway 😉
---
---