Chocolate and Puffed Quinoa Granola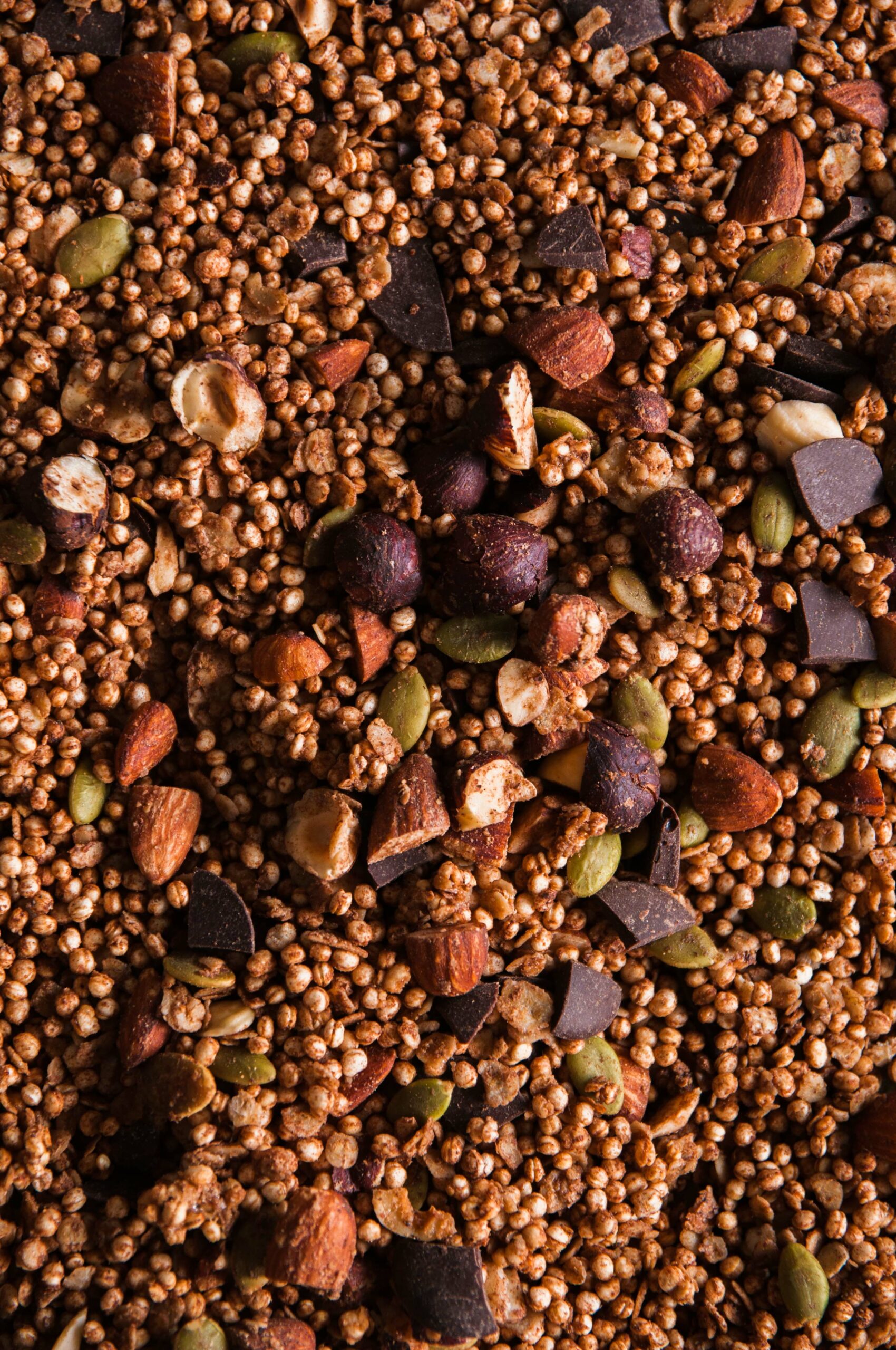 There are already some recipes of breakfast on the blog here and here. But we never have enough ideas fro breakfast isn't it? Well ok, maybe this meal is important to us… And above all we like to change regularly. Our bases are porridge and slices of good bread with butter. But from time to time we treat ourselves. Today, the second granola recipe on the blog (find our classic here) and certainly not the last. I regularly look for new recipes. So, I will talk about chocolate and puffed quinoa granola! Unusual, you might say. I bought this puffed quinoa a while ago in France with the idea of ​​turning it into granola. Well it took me a few months to finally take action and I don't regret it!
Homemade recipe
Even if we like to change our breakfasts on a regular basis, chocolate is rarely on our table in the morning. For some reason I'm not a big fan of chocolate flavors before noon. So when I looked for a chocolate granola recipe, it was often too sweet for me! I had to create my own recipe combining what I wanted to include in my chocolate and puffed quinoa granola. First of all I needed nuts, I opted for almonds and hazelnuts. Then I wanted the more full-bodied taste of chocolate, so I added bitter cocoa powder. How about a seedless granola? Not possible under my roof, so I put pumpkin seeds in it! The result lives up to our expectations, it was validated by Mister (but not Mini… except for the chocolate chips… but hey, Mini is a fine gourmet for his age, what can I say… he is very selective about what reaches his mouth…).
Moreover I have to admit that I liked the exercise of creating a recipe, I will try to work on this aspect for the blog. Why not take advantage of this creative space after all?!
Now it's time to give you the recipe. Small clarification: do not expect large chocolatey granola chips here. It's just crispy, sweet and chocolatey as it should be ;).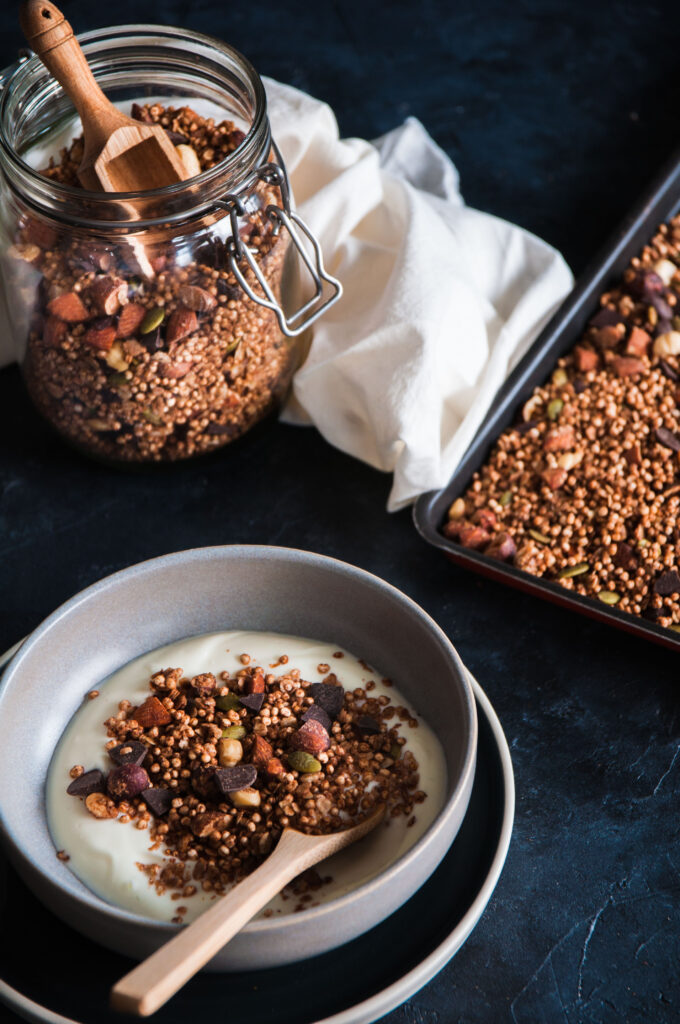 Chocolate and Puffed Quinoa Granola
Ingredients
200

g

oat flakes

100

g

puffed quinoa

1

tbsp

unsweetened cocoa powder

(Van Houten)

120

g

almonds, coarsely chopped

75

g

hazelnuts, coarsely chopped

50

g

pumpkin seeds

1

tsp

sea salt

4

tbsp

almond puree

80

ml

maple syrup

60

g

coconut oil

100

g

dark chocolate chopped
Instructions
Preheat the oven at 160°C.

Mix all the dry ingredients together except the dark chocolate: puffed quinoa, oat flakes, cocoa powder, almonds, hazelnuts, pumpkin seeds, sea salt.

In a small saucepan, very lightly heat the maple syrup with the coconut oil. Just enough to liquefy coconut oil. Add the almond puree and whisk to obtain a homogeneous mixture.

Add liquids on the dry ingredients. Make sure there is no big lumps.

Bake for 30 minutes, stirring every ten minutes so that the granola cooks evenly.

Leave to cool before adding the dark chocolate and put in an airtight jar for better conservation.
Notes
You can keep this granola up to a month in an airtight jar without any problem.
I serve this chocolate granola with fresh fruit, it's up to you to choose which ones. Here we often go for bananas and pears which are two fruits that go perfectly with chocolate. But you can add blueberries or raspberries when in season! And then milk, almond milk, yogurt, fermented yogurt… whatever you like would be perfect for you!
I hope you will like this recipe! I wish you a beautiful day 🙂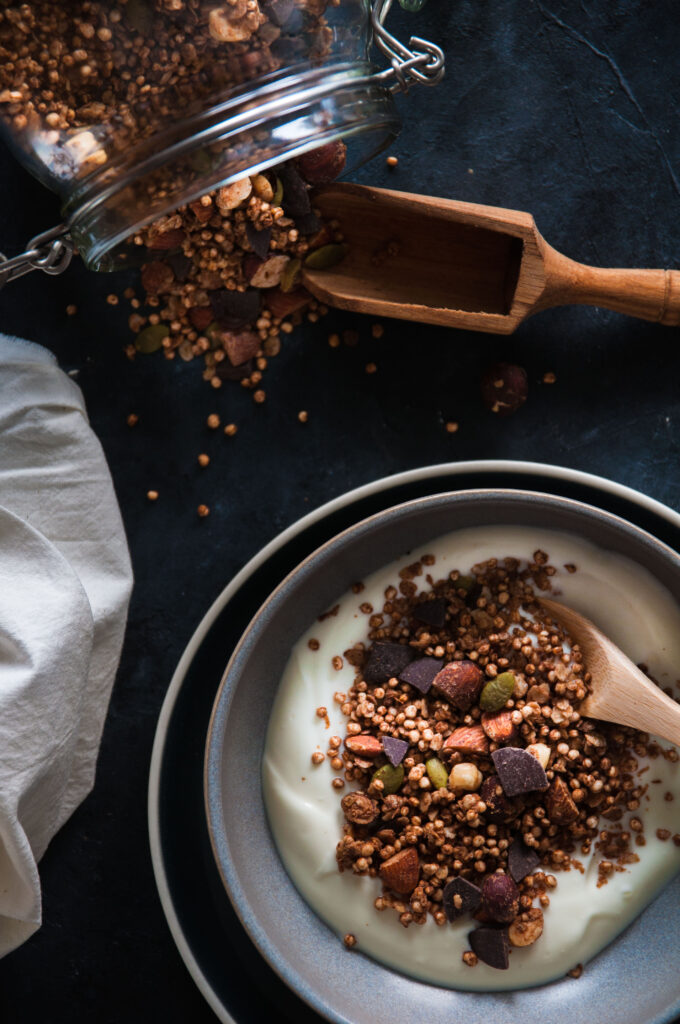 ---
---