Burger Buns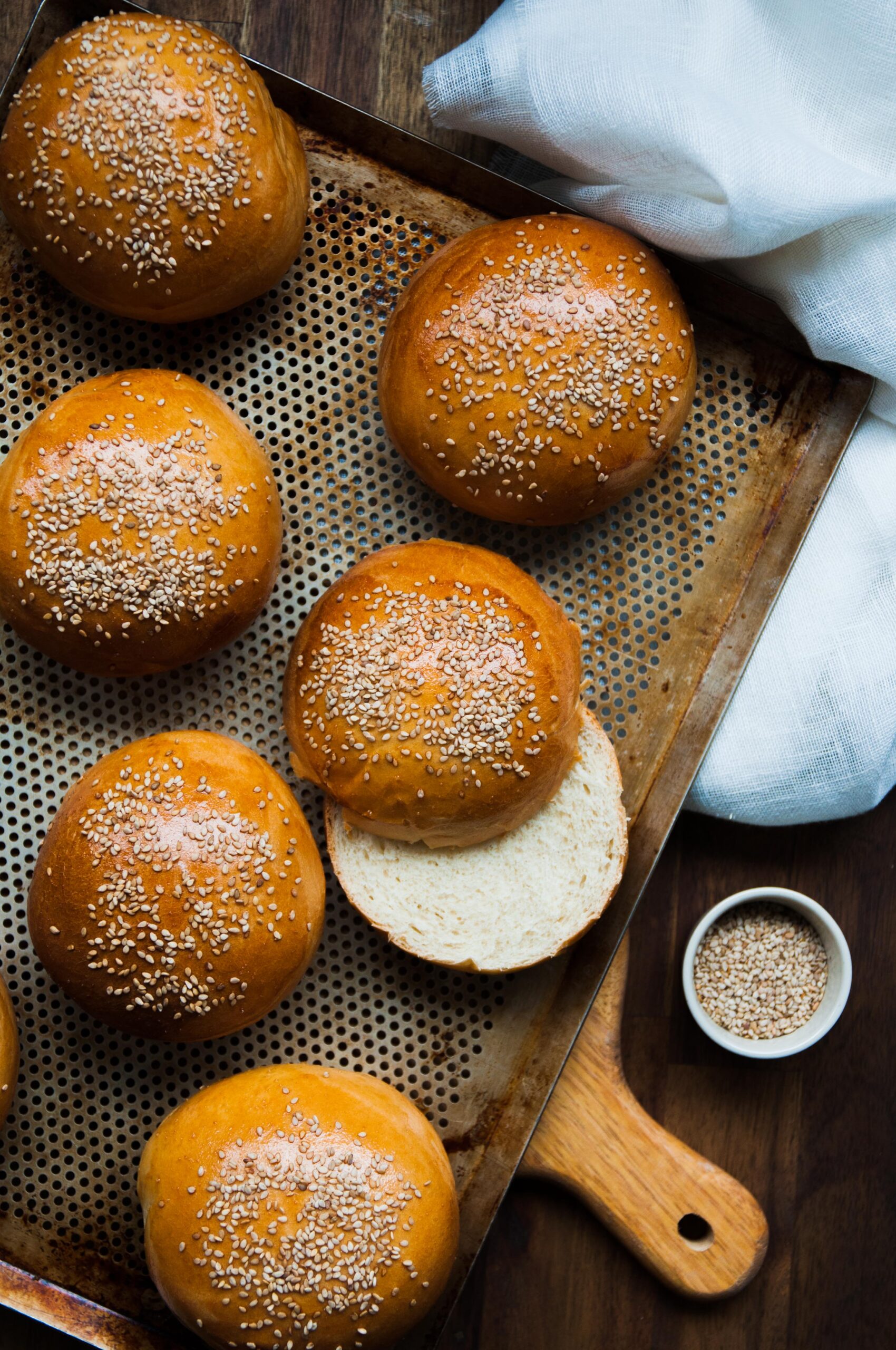 Today I wanted to share a recipe I'm baking since a long time now! And I also wanted to include it in my official recipe book ;)! We love burgers at home and all sorts of burgers I believe. With beef, pork, with a vegetarian steak, with a beautiful Portobello mushroom and halloumi, different sauces, different cheeses… No matter we will like it :)! And of course, no good burgers without good burger buns.
This recipe comes from the French food blog C'est ma fournée. A gold mine for finding a recipe and above all the guarantee of quality, but in French! Like many of recipes with yeast in it, it can be scary but it is not difficult to make. Personally the Kitchen Aid makes a big part of the job. Then it is important to give the dough time to rise once and a second time after shaping. Afterwards you will obtain very soft breads, not too sweet which will sublimate the filling of your burgers, trust me!
Some important details about this recipe :
At home I only use fresh yeast, I prefer, I find it more reactive (and I love the smell…). Of course you can use dried instant yeast instead, but be careful not baking powder! We reserve this one for cakes 😉
As for the choice of seeds to sprinkle over the bread, treat yourself. We prefer the classic sesame seeds but you can use poppy seeds, flax, sunflower seeds, maybe even grated cheese! As usual in the kitchen: enjoy and try! The most important thing here is the recipe of the breads themselves. By the way, let's go to the recipe!
Oh wait one last thing: these burger buns are part of my basics in my freezer, I always have some for a last minute emergency… I make sure to be ready to have fresh homemade burger anytime 😉!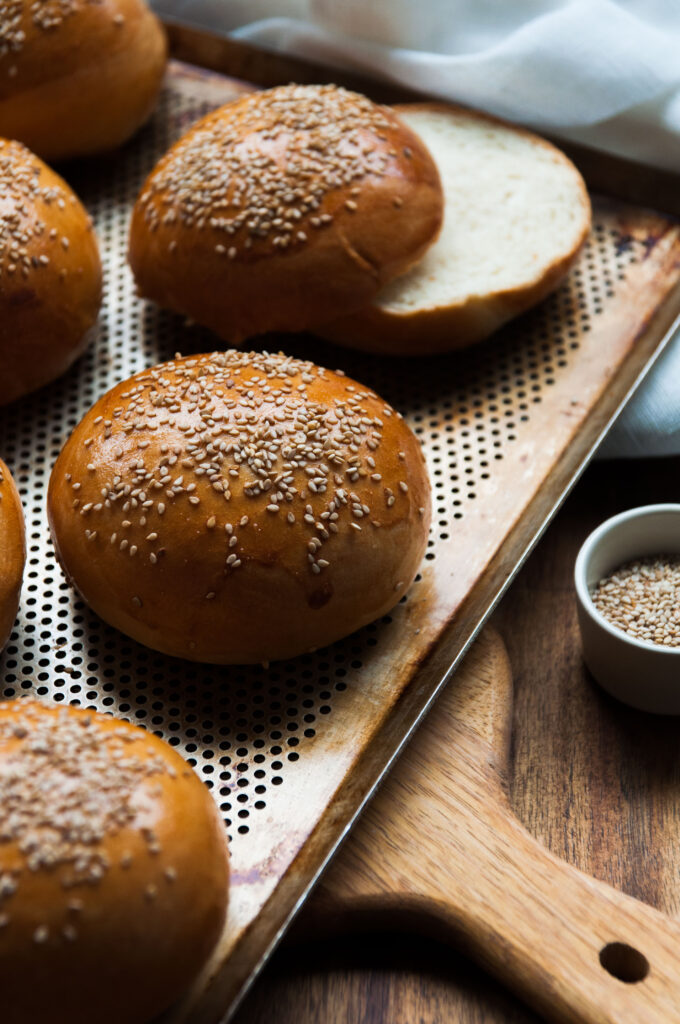 Burger buns
Servings:
9
buns (or 8 big and 2 small buns)
Ingredients
600

g

bread flour

15

g

fresh yeast

(5g of dried instant yeast)

1

egg

(+ 1 for brushing)

180

g

milk

130

g

water

10

g

salt

25

g

sugar

60

g

soft butter

Sesame seeds, or any other seeds you like
Instructions
In the bowl of your food processor, mix the fresh or dry yeast with the milk at room temperature using a small whisk. You can slightly warm your milk if it comes out of the fridge, but be careful not too much or it will kill the yeast.

Fit the mixer with the dough hook and add the water, then flour, salt and sugar. Lightly knead the dough, add the egg and knead again.

Finally add the softened butter and knead for 10 minutes at low speed.

Once the dough is homogeneous, let it rise for 2 hours at room temperature, covered with a tea towel.

After this rising time, we will proceed to shaping. Divide the dough into 9 pieces of equal size. I always weigh my dough and divide the result obtained by 9 to have regular buns.

Take each piece of dough and form a homogeneous ball. Place the bun on a baking tray lined with a silpat sheet or baking paper and flatten it with the flat of your hand.

Do this for all the buns, I put my buns on two baking tray otherwise they would stick together. Let rise again under a tea towel for 45 minutes.

Once the buns have risen, preheat the oven to 170°C. Brush them with an egg beaten with a pinch of salt. You have to be delicate or the buns will go flat. Sprinkle with seeds of your choice.

Bake for 18 minutes and let them cool down on a rack at the end of cooking.
Notes
Now that we have a little one (and soon two…) gourmets at home, I divide my last piece of dough in two to make two small burger buns adapted to the size of his little hands. He is a fan!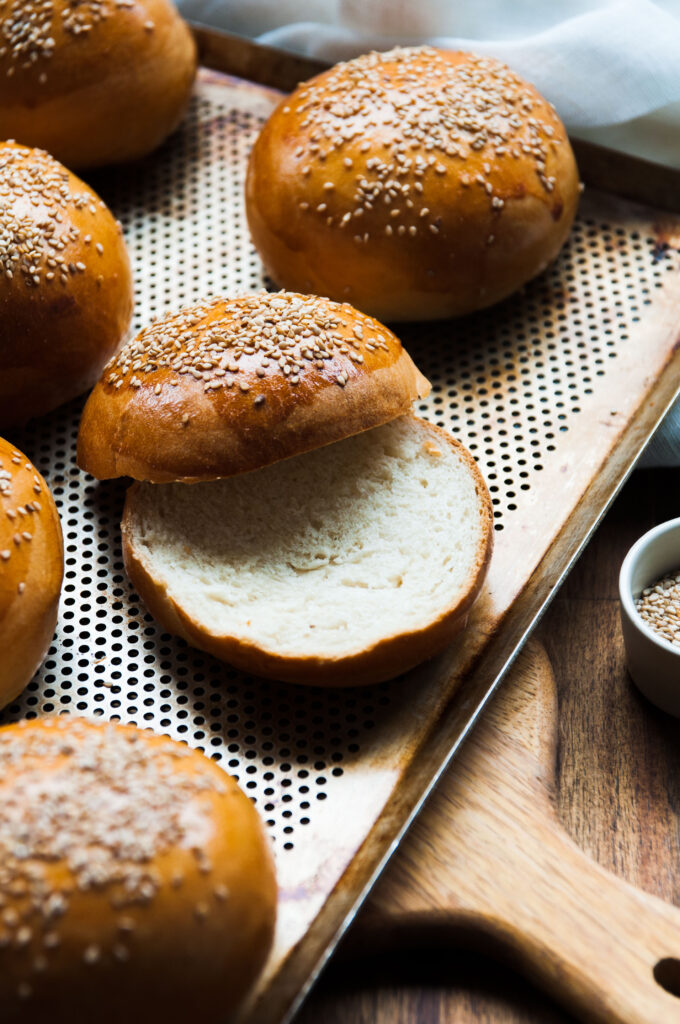 And there it's ready, all you have to do is enjoy! Personally I've finished my job, Mister is taking care of the filling when we make burgers, I just have to sit down!
I hope you will enjoy these burger buns !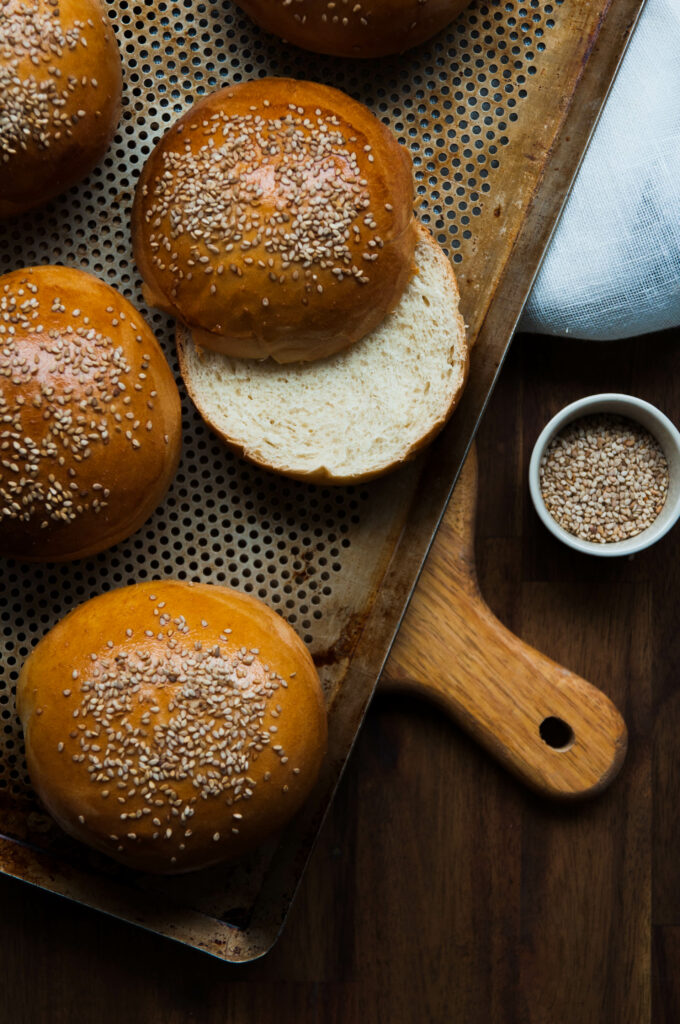 ---
---