Carrot, leek and ginger soup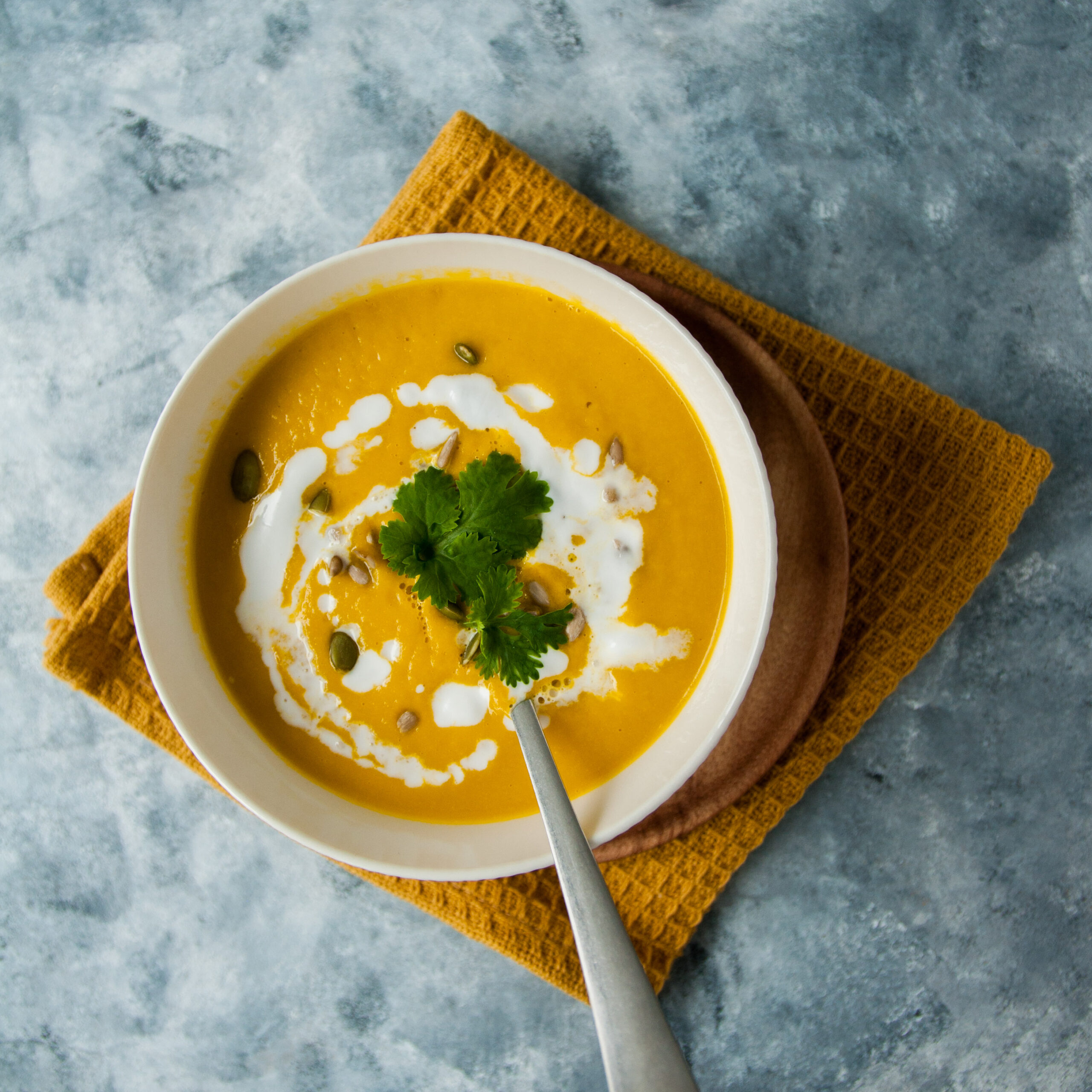 Today we are talking about carrot, leek and ginger soup! Ah my love for leeks…!! I think, well I'm actually pretty sure, that it's my favorite vegetable. I'm never bored of it, all winter long, in all of its forms. Besides, I could share my leek pie recipe with you! Or the one I discovered not a long time ago: crozets (square pasta from France) gratin with leeks, carrots and bacon, a delight! Just thinking about it and I would eat a slice of each…
Anyway, let's get back to this carrot, leek and ginger soup that really hit the table. It has Asian flavors, and all of the ingredients together work very well. It made me want to find a recipe for a real soup with Asian flavors, unmixed, full of vegetables and taste, another day maybe!
Anyway (again!), let's stay focus: we loved it.
I had already cooked it last fall but it had remained in the back of my mind. I forgot a bit about it I must admit. As winter is still well established, we always enjoy soups of all kinds. And I try to vary the recipes so as not to create boredom when I serve the meal, which does not always trigger enthusiasm… I remember that when I was little my mum made "soup parties" for us, of course we still had vegetable soup but we could put cheese, parma ham crisps, croutons and all kinds of toppings on it! We were (almost) happy to eat soup ;)!
I found this recipe on the French blog Megalowfood, blog rich in gourmet and healthy recipes, I advise you to go there to glean some ideas, if you understand french of course. Besides, on the same page we had tested her couscous bowl which we really liked.
So when I started to write today, I said to myself, no blah-blah for a soup but I managed to do it differently… But around a soup ready in no time that will delight you for a weeknight after a very cold day. That counts, isn't it?! Enjoy!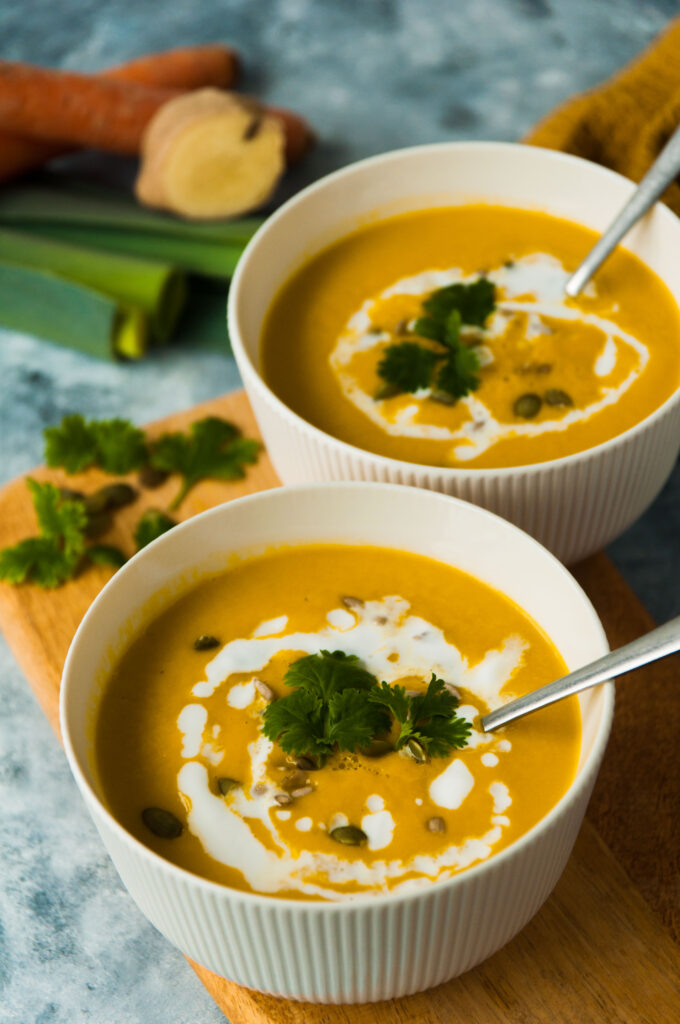 Carrot, leek and ginger soup
Ingredients
4

carrots

2

leeks

4

cm

fresh ginger

1l

organic vegetable or chicken stock

4

tbsp

coconut milk

1

tsp

cider vinegar

Salt, pepper

Olive oil
Instructions
Peel the carrots and wash them. Carefully wash the leeks, cut off the darkest green part and keep it for later (see notes). Peel the ginger.

Cut the carrots and leeks into rounds of about ½cm. Mince or grate the ginger.

In a pan, heat a little bit of olive oil and fry the carrots, leeks and ginger for a few minutes.

Add the warm broth, cover and cook for about 20 minutes. Check the carrots, they are the ones that will take the longest to cook.

Once the carrots are cooked, mix the soup with the coconut milk and cider vinegar. Adjust seasoning with salt and pepper.
Notes
For this recipe, I mainly use the white of the leek. I save the greenest part for a potato and leek soup. After having washed them carefully I store them in the freezer and as soon as I have enough I can make this easy soup with potatoes. Easy peasy!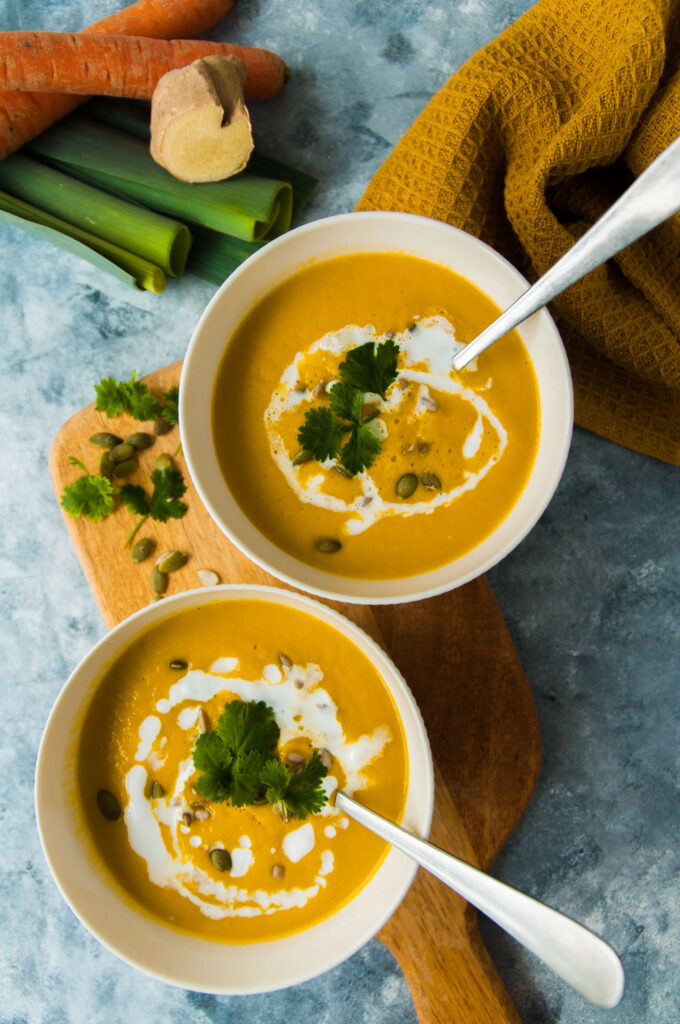 ---
---