Roasted Sweet Potatoes and Black Beans Curry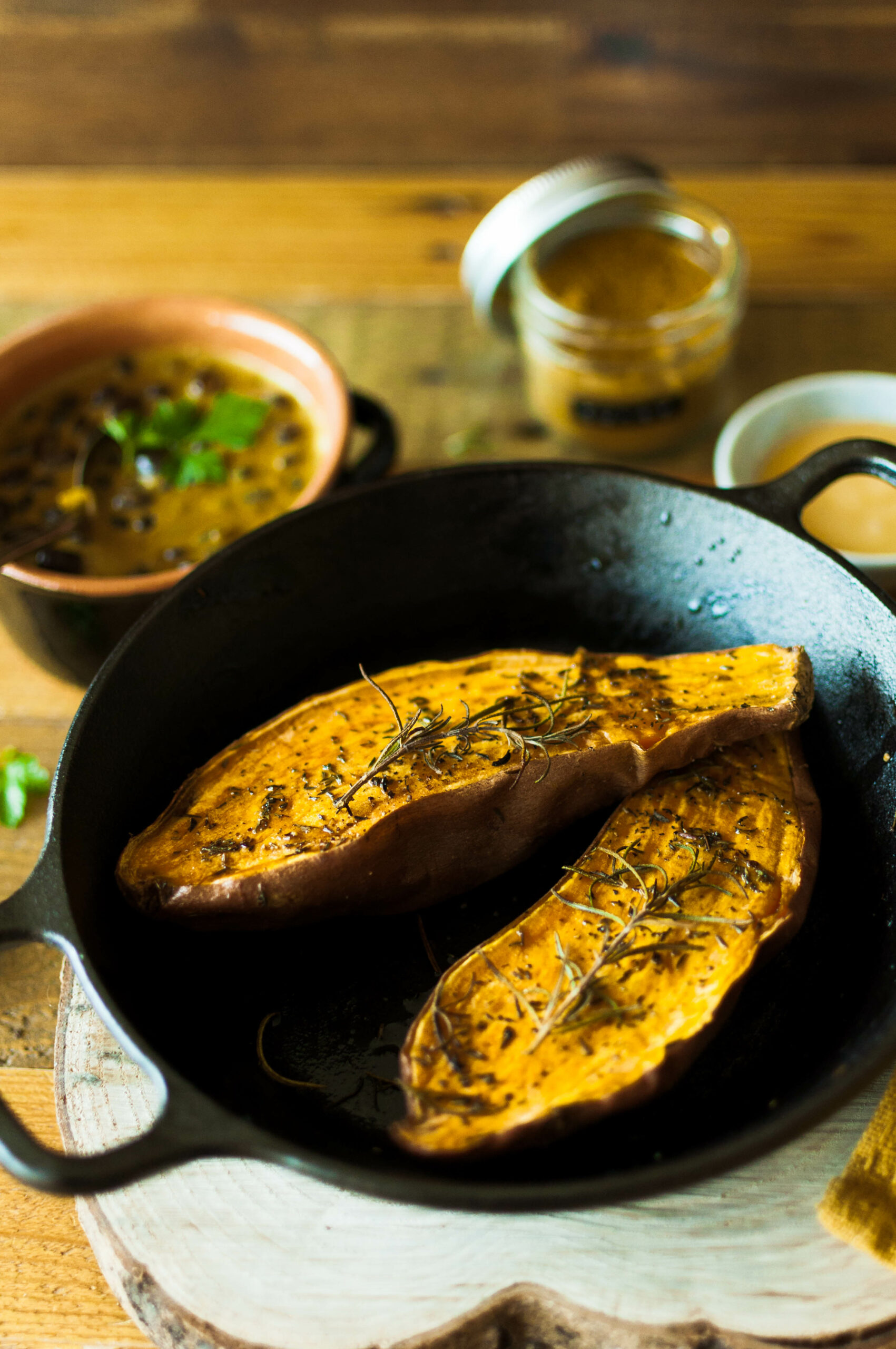 Despite the fact that I want to eat and try a thousand things in my kitchen every day. Despite all my food-related Pinterest pins and Instagram tags. I am sometimes (often…) in difficulty to find menus for weeknights. Well since I'm pregnant let's not even talk about it, I'm tearing my hair out! Moreover, let's add to that our little gourmet who carefully selects what he will eat or not, it limits our list of daily menus! Do I feel like I am describing the daily life of any parent? I think so yes!
Let's enjoy simple recipes!
All that to say that when we have a recipe that works, which doesn't require too much effort for a weeknight, which can be considered as a storecupboard recipe, then we keep it preciously! This roasted sweet potatoes and black beans curry is largely inspired by a recipe from Saveurs Greens magazine. I simplified it a bit more by using canned black beans instead of dried black beans. It turns it a bit more as daily food.
Be careful, however, to cook the sweet potatoes a bit ahead. They have to be cooked in the oven for 1 hour. So I prepare them quickly, put them in the oven and I can go back to play, do puzzles, give the bath before starting the preparation of the beans. Sometimes I even pre-cook them in advance so that I only have to reheat them on the day we are eating it.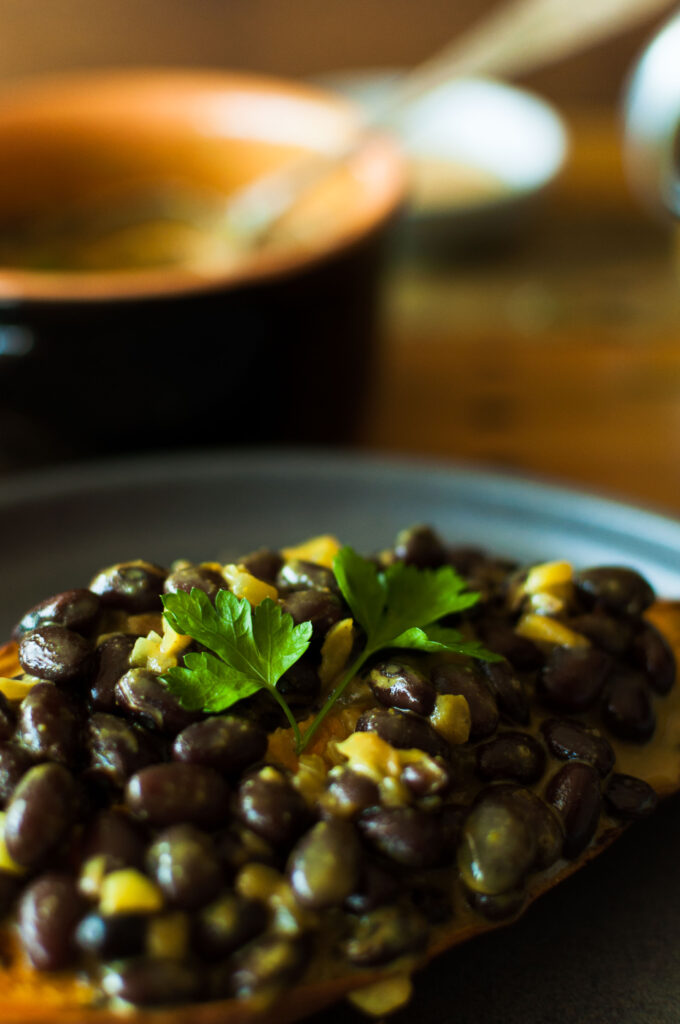 Anyway, I wanted to write down this recipe here because it is part of our comforting daily meals. Comforting for winter and it had its little effect when I tested it with friends and family as well. I hope you like it as much as we do.
Small note on the ingredients: it seems to me that it can be a bit difficult to find canned black beans in France (quite common thing in Finland… I can't explain it!). It is part of the leguminous plants like kidney beans and white beans and is particularly used in Latin American cuisine. So maybe it might be worth looking on the world shelves of your supermarket or even in organic stores.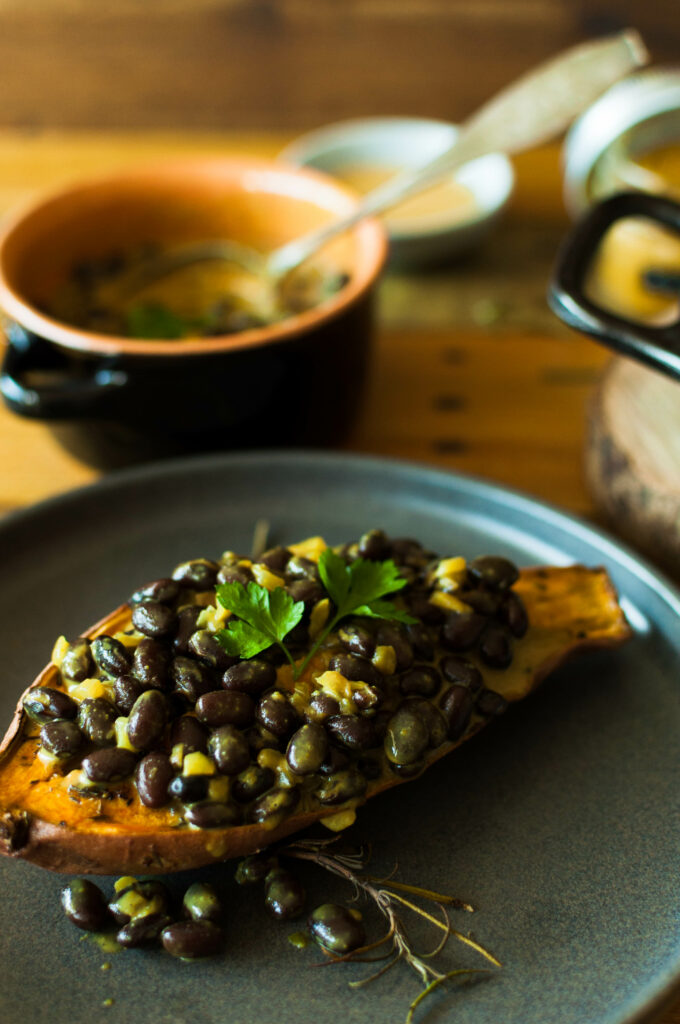 Roasted Sweet Potatoes and Black Beans Curry
Ingredients
4

sweet potatoes

1

tin

of black beans

(about 400g)

2

onions

15

cl

single cream

1

tbsp

honey

1

tbsp

curry

Dried thyme and rosemary

4

tbsp

olive oil

Salt and pepper
Instructions
Preheat the oven at 180°C.

After washing the sweet potatoes, cut them in half and brush with olive oil. Season with salt and pepper and sprinkle over rosemary and dried thyme.

Place them on a baking sheet lined with parchment paper. Bake for 20 minutes and then lower the oven temperature to 150°C to extend the baking time by 40 minutes.

Meanwhile, prepare the black beans. Chop the onions finely and fry them for 5 minutes in a frying pan with 1 tbsp of olive oil.

Add the drained and rinsed black beans, cream, honey and curry. Add a little water if the mixture is too thick. Cook for about ten minutes and keep warm while the sweet potatoes are cooking.

Serve the sweet potatoes with the black bean curry. You can add cilantro if you wish, I love it but I know that's not the case for everyone!
Enjoy and have a great day!!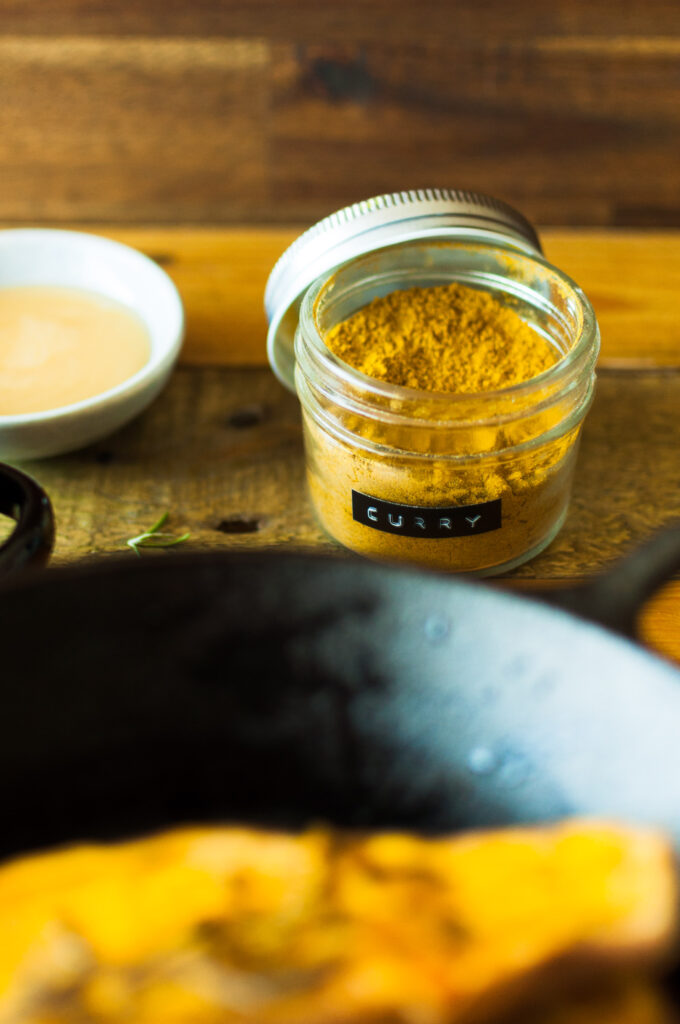 ---
---