Dates and Chocolate Energy Balls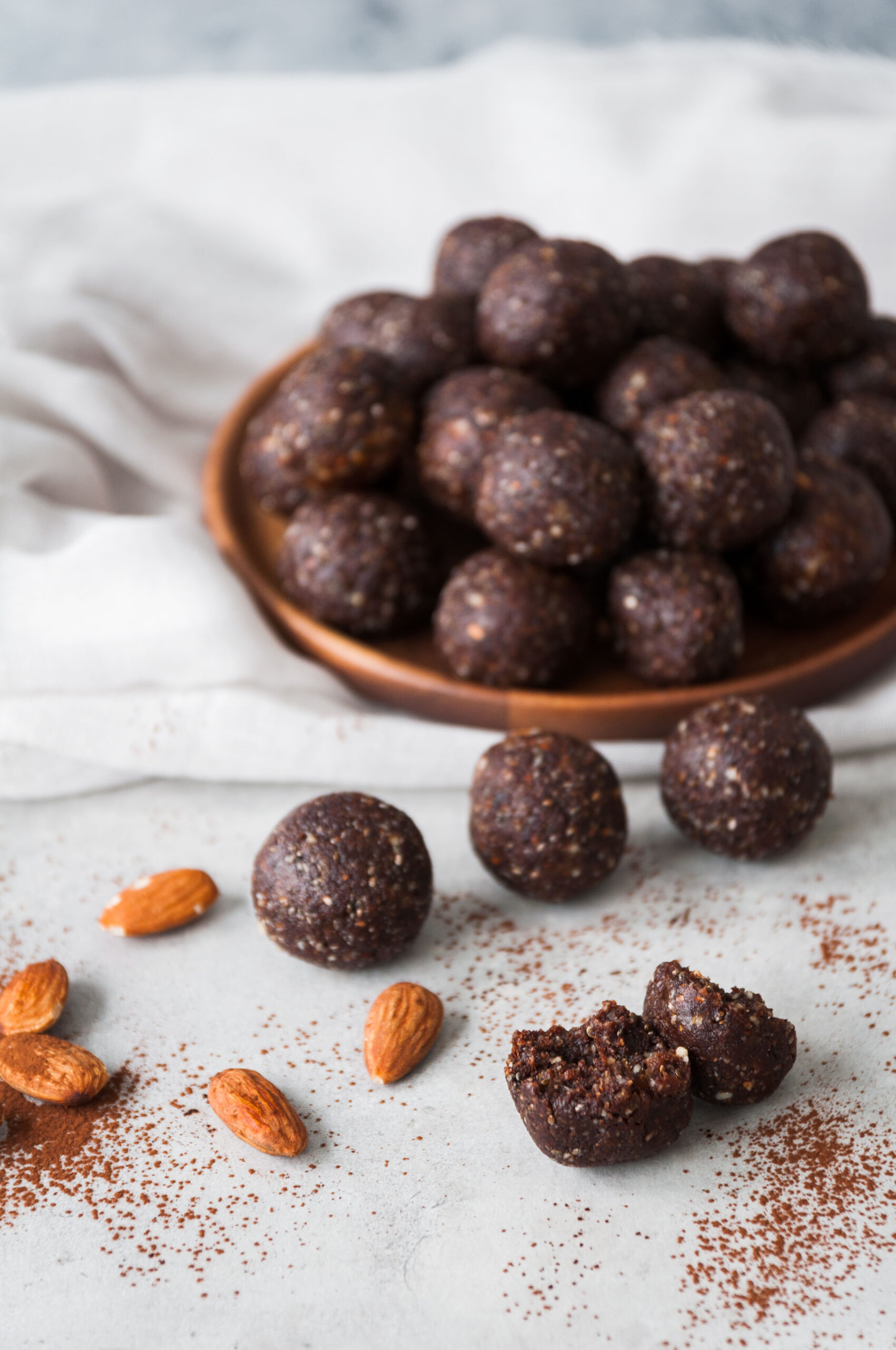 And here I am with a perfect recipe for postpartum! For the little craving and when reload your energy is necessary! I discovered the concept of these energy balls a few years ago in England thanks to Deliciously Ella. Since then I make it regularly and the advantage is that you can vary the toppings to infinity. Today the classic dates and chocolate energy balls but I remember a lemon spirulina version which I enjoyed very much. I absolutely have to find the recipe and prepare some for after birthing.
These little balls of energy are generally made up of dates, oilseeds or nut butter to provide an interesting source of fat, superfoods of all kinds (chia seeds, spirulina, etc.) and a flavor that we of course appreciate to make it special. They are healthy and you can bring them with you easily anywhere. This time, and for the first time, I put them in the freezer to have some already prepared once Mini bis will be born. Depending on their composition, they can also help lactation. But their primary objective is to give you the little boost (often) necessary postpartum.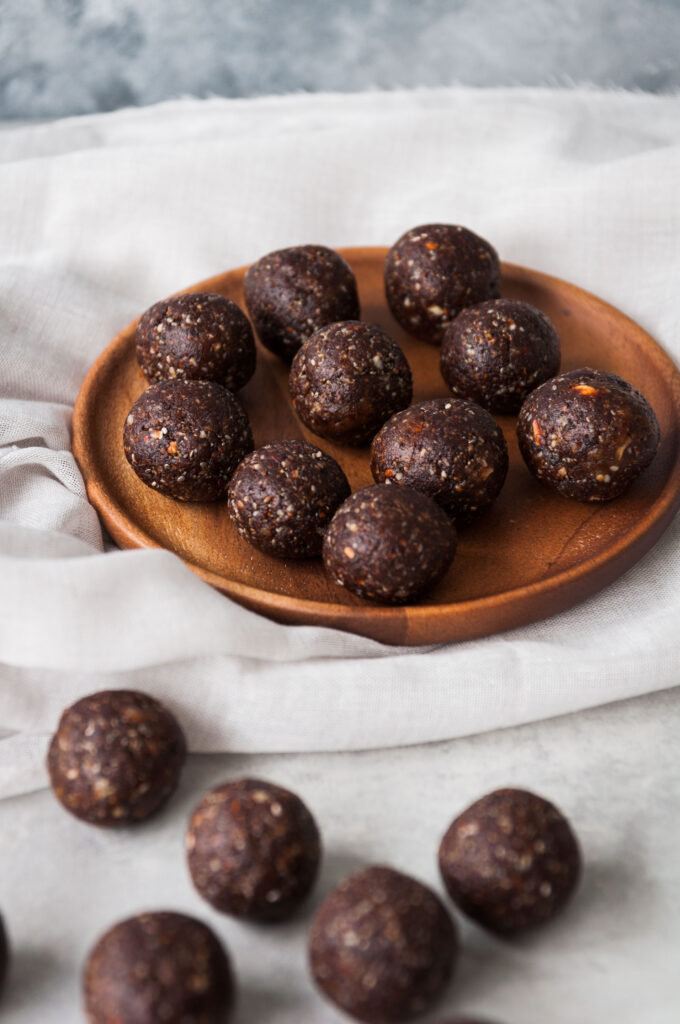 Heatlhy snack to find back your energy
I talk a lot about postpartum (it seems like it's getting closer…) but of course it's a snack that suits everyone. It allows you to energize yourself between meals without throwing yourself on snacks let's say… a little less interesting from a nutritional point of view… (haha don't worry I will continue to make brioches, let's stay serious…!)
So this recipe for date and chocolate energy balls comes from the book Deliciously Ella, by Ella Woodward. She creates many healthy, gourmet and vegan recipes. Although we are not vegan at home, like everyone else we seek to improve the way we consume food and I often draw inspiration from her recipes for our daily cooking. For the cooking fan that I am, it simply opens up a new field of possibilities :).
Oh and before I forget, last precision, for these energy balls you will need a food processor. We have this one at home, it is perfect for this kind of recipe, such as pesto and other nuts butter. A blender may clog up without being able to obtain a homogeneous mixture.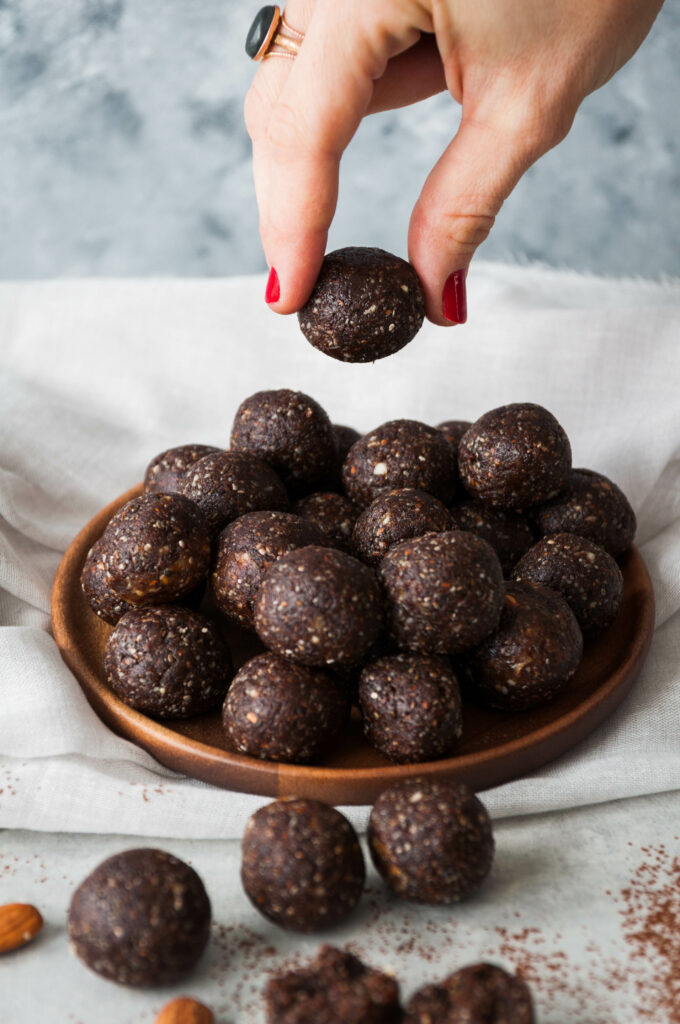 Dates and Chocolate Energy Balls
Ingredients
200g

almonds

400g

dates

(ideally Medjool, but they are often expensive )

4

tbsp

unsweetened cacao powder

2

tbsp

almond butter

2

tbsp

coconut oil

2

tbsp

chia seeds
Instructions
Put the almonds in the bowl of your food processor and blend for 30 seconds, until you get a coarse powder.

Add the dates and the rest of the ingredients. Add 2 tbsp of water. Mix until obtaining a homogeneous mixture. It's a little sticky but that's normal.

Roll the energy balls and place them in the freezer for 1 hour to allow them to set.

Then store these energy balls in an airtight box in the fridge.
Notes
You can keep them for up to two weeks in the fridge and 3 months in the freezer.
But don't worry, they won't stay that long!
With this energy balls, even if I don't sleep through the nights, I'll be in great shape… Or not ;)!! I will try to post another version quickly to vary the pleasures.
Have a nice day everyone!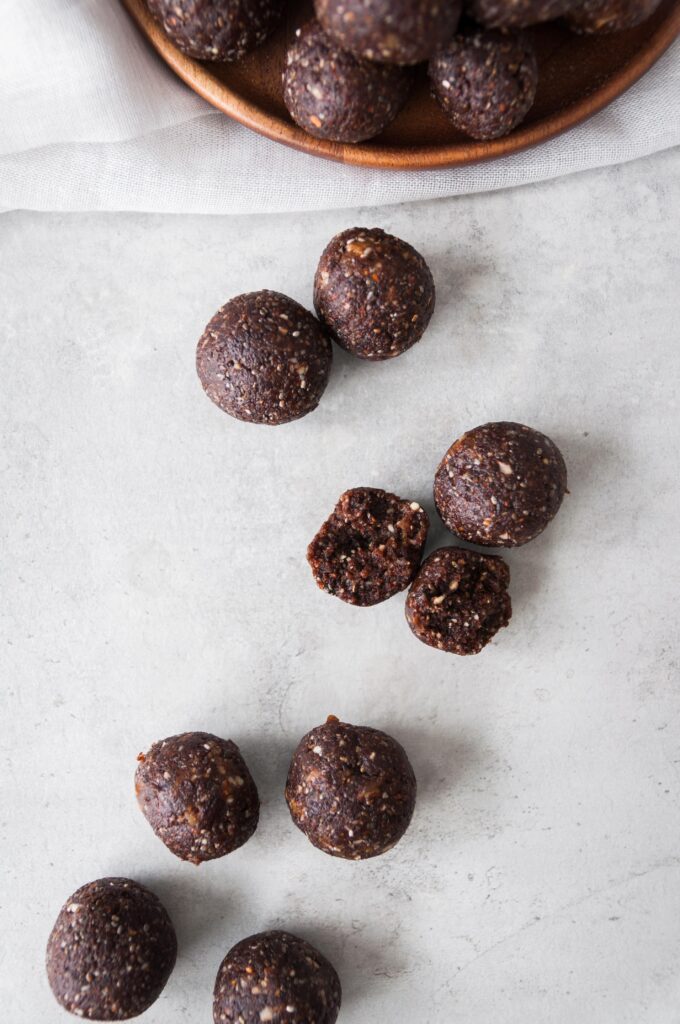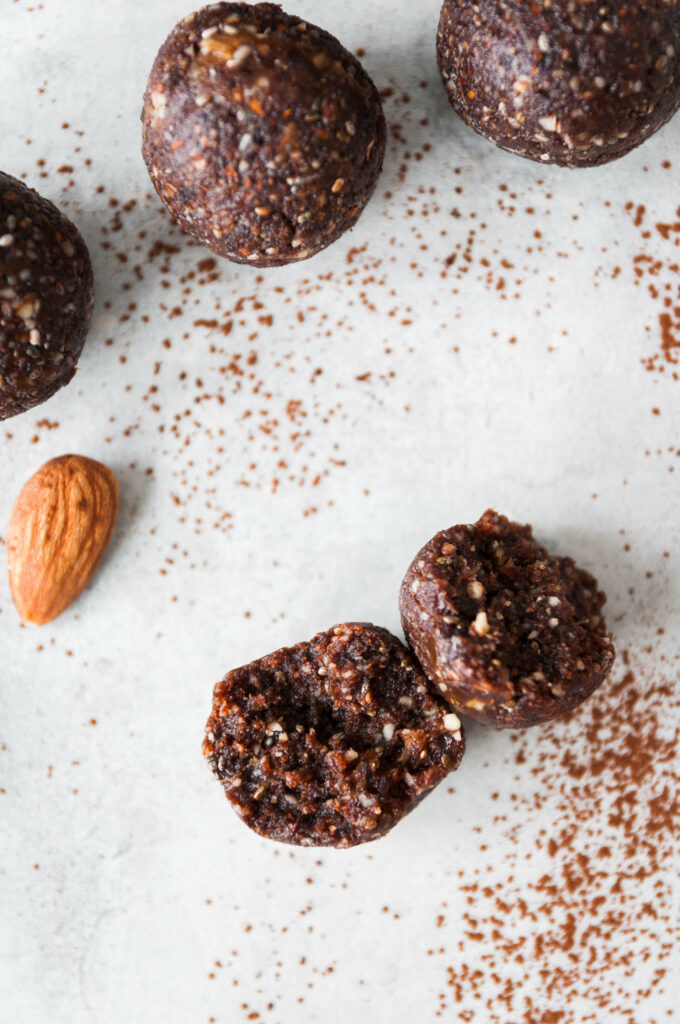 ---
---