Butternut, Saffron and Orange Soup from Ottolenghi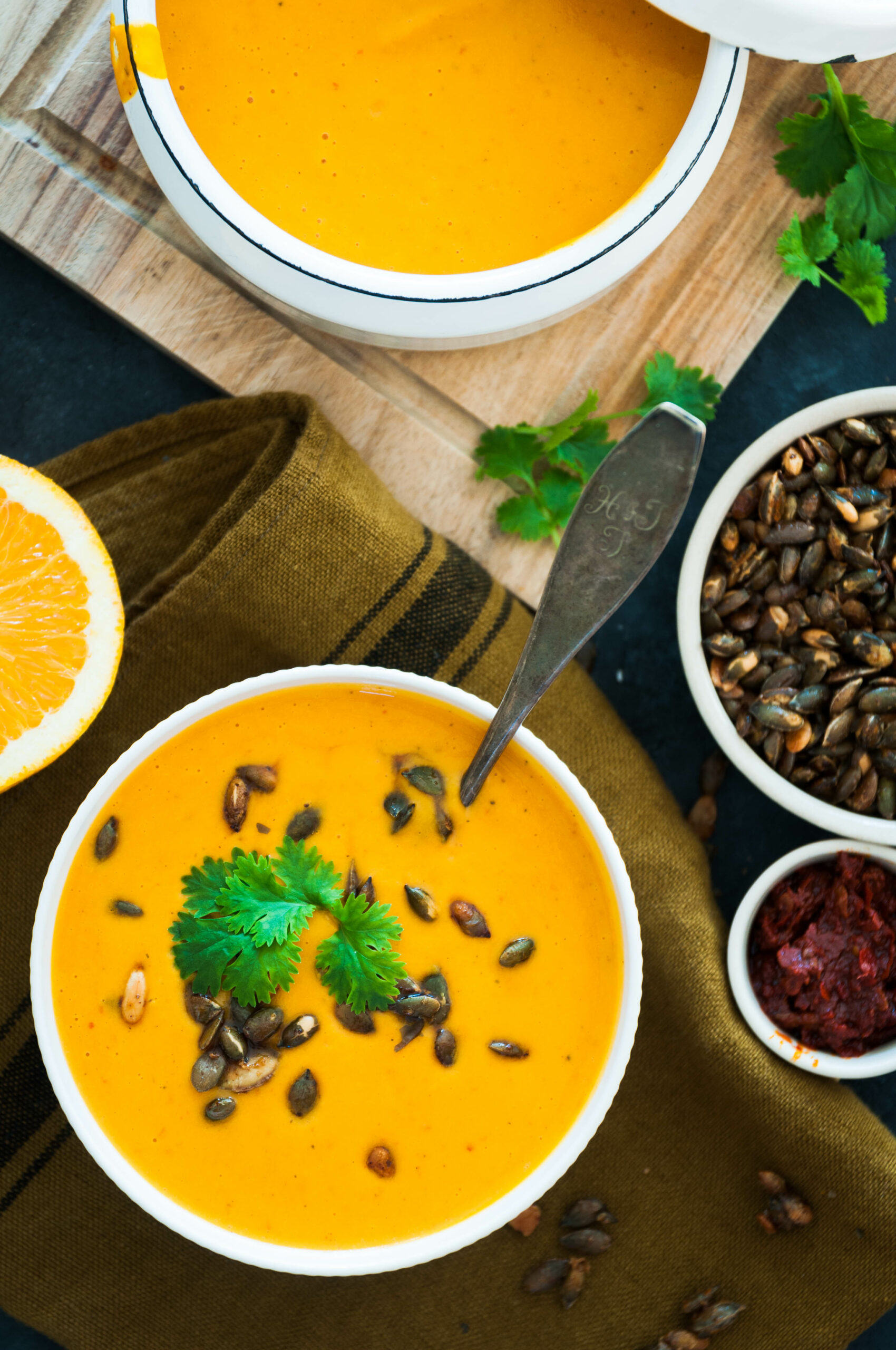 One last squash recipe, the last of this winter! I know spring is on its way but in Finland we still have snow, we still put on our hats and our gloves… We (REALLY) wish to see the grass and temperatures above zero… But hey, it's the game, in Finland spring does not rush, but once it arrives it's blowing everywhere. The trees are suddenly covered with leaves and flowers. In 15 days nature is alive again. And we're taking full advantage of it, I can't wait! But let's not think about it right now, my Mini still loves to jump in the snow…Let's enjoy it too!
Anyway, I should probably rather talk about this butternut squash, saffron and orange soup. It is just delightful, surprising, full of flavors, in short, it's Yotam Ottolenghi. The hardest part will surely be finding the rose harissa which is part of key ingredients in this soup. The particularity of this harissa is the addition of floral notes of rose which brings sweetness and soften the spicy side of the harissa (according to Ottolenghi of course). So if you can't find it you can use classic harissa but reducing the quantities by two, at least. In any case, the way to spice a dish is very personal. It's better not to put a lot and adjust to your taste to be sure not to have bad surprises and avoid eating with the packet of tissues next to you…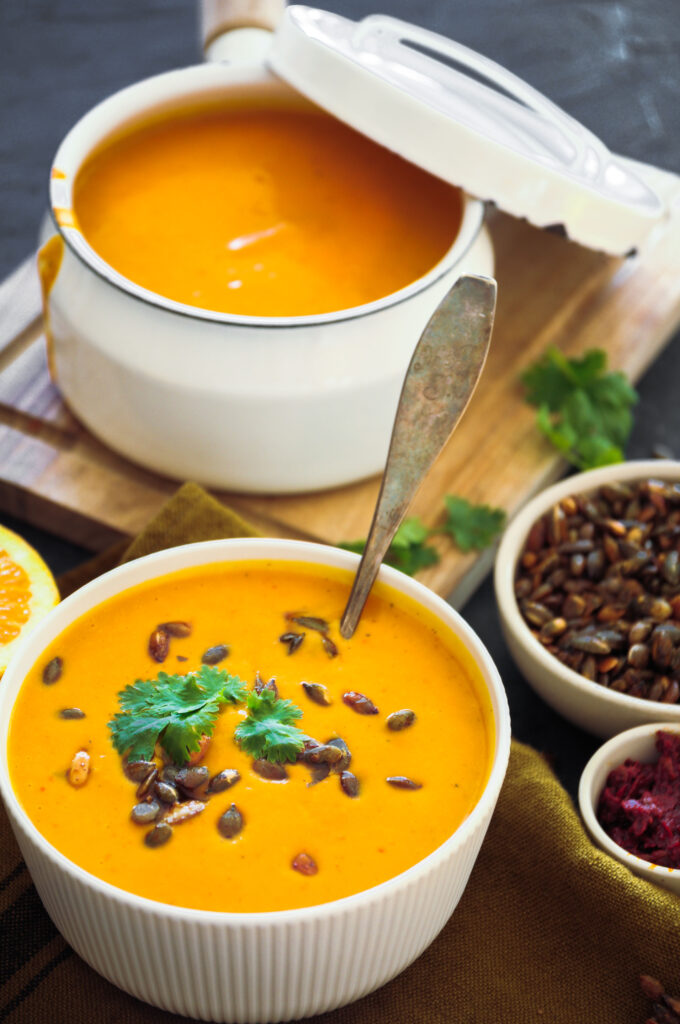 Should I really introduce Ottolenghi?
Yotam Ottolenghi suggests serving this delicious soup with toasted pumpkin seeds, don't skip it. It adds crunch and it's perfect like that! This is Ottolenghi's second recipe on the blog (the first one is here) but if I would listen to myself there would be many others, I'm a real fan. If one day you have the opportunity to go to London, do not hesitate to take a tour at his deli restaurant in Notting Hill. It's small, cozy and above all it's delicious. It works like a buffet you choose the number of dishes you want and then you enjoy. Oh I so want to go back there now, I have to talk about it with Mister…! He has other restaurants, more classy, but I felt in love with this one and it's his first one so it has a little something special!
Butternut, Saffron and Orange Soup
Ingredients
Soup
1,2

kg

butternut squash

2

onions

60

ml

olive oil

1

liter

vegetable stock

2

tsp

rose harissa

(or 1tsp if you use classic harissa)

¼

tsp

saffron threads

1

zest

of organic orange

180

g

crème fraîche

5

g

coriander leaves

Salt and pepper
Toasted pumpkin seeds
80

g

pumpkin seeds

2

tsp

maple syrup

¼

tsp

chili flakes
Instructions
Preheat the oven to 170°C.

Mix the pumpkin seeds with the maple syrup and the chili flakes, add ¼ teaspoon of salt. Spread this mixture on a baking tray lined with parchment paper. Set aside to cool.

Increase the oven to 220°C.

Peel the squash, remove the seeds and cut into 3cm cubes. Peel the onions and cut them into 2/3cm slices. Mix the squash, onions and olive oil, add ¾ teaspoon of salt and a good grind of pepper.

Spread this mixture on a baking tray lined with parchment paper or a silpat sheet and roast in the oven for 25 minutes.

Meanwhile, prepare the stock. In a large saucepan, pour the vegetable stock, add the harissa, saffron, orange zest, ½ teaspoon of salt and pepper. Bring to the boil and lower the heat until the squash is cooked.

When the squash is cooked, add it with the onions and oil to the saucepan, mix well and simmer for 5 minutes.

Off the heat, add the crème fraîche and blend the soup using a blender or an hand-held blender (here we prefer the blender, the texture is smoother and it's less dangerous, isn't it Mister?).

Serve the soup with a sprinkle of coriander leaves and toasted pumpkin seeds.
And now let's wait until the end of the year for other squash recipes! But it's not the end of the soups season yet, another will be coming in the coming weeks, a quite different one!
I wish you a beautiful day and to enjoy this soup!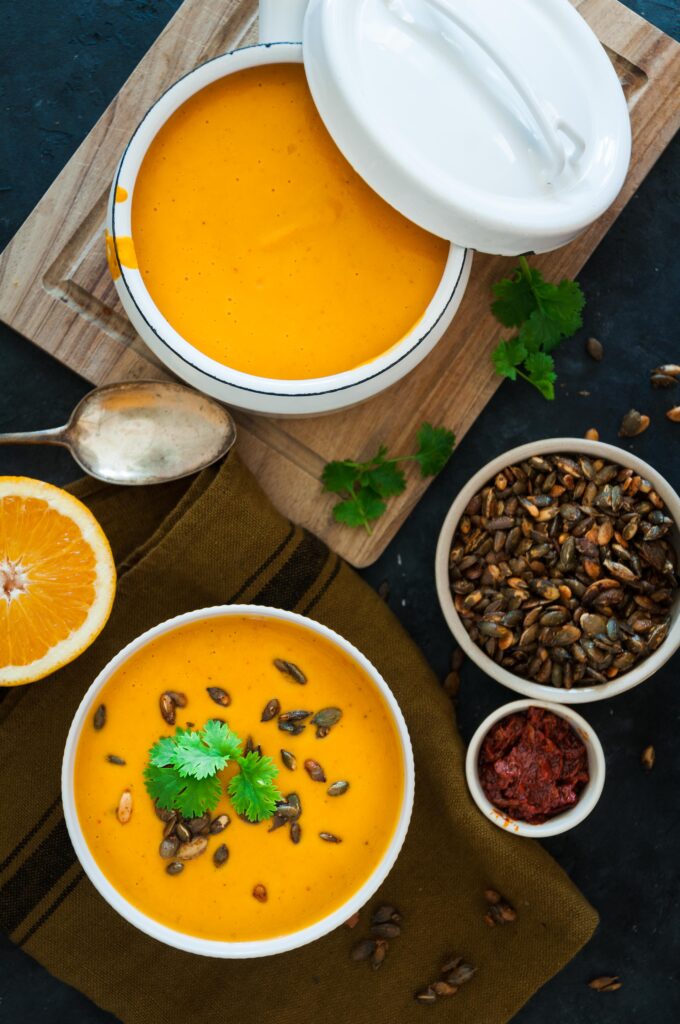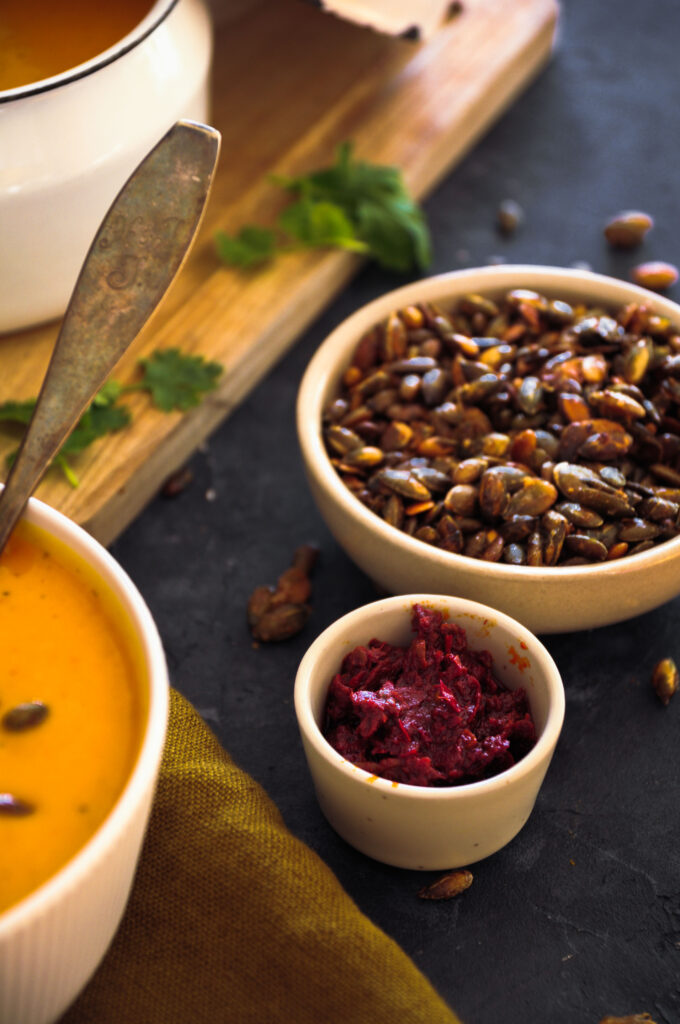 ---
---