Coconut, Almond and Blueberry Cake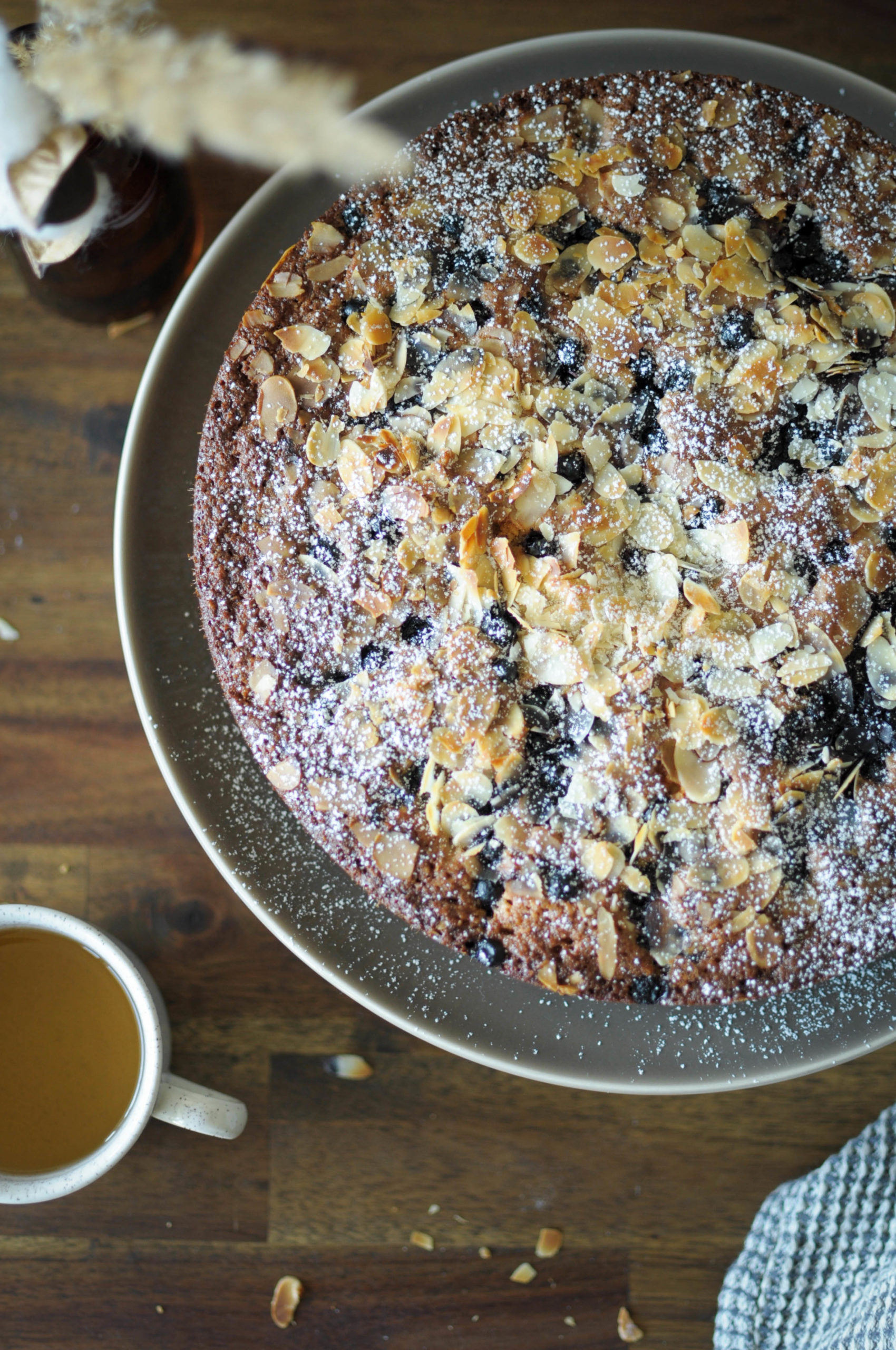 Ottolenghi… Do I really need to introduce him? If you are passionate about food and recipes, certainly not. If you know me, certainly not again 😁. But if you don't know him, I'm really happy to introduce you one of the best chef in terms of tastiness, spice's associations and unusual flavors.
Today I want to talk with you about his coconut, almond and blueberry cake. He is often well known for his savory recipes. He perfectly knows how to cook vegetables, check his two cookbooks about them: Plenty and Plenty More. Furthermore he masters the art of cooking meat and fish, we had so much good dishes with his books Ottolenghi Cookbook and Jerusalem. Last but not least he experiences as well with fruits and sweet treats, and always find the special touch to make it special. Go and check the cookbook Sweet he wrote with Hélène Goh. So… Do I need to tell you how a huge fan of his work I am? How often his recipes are on our table? How many of his cookbook I have at home? Hum… No need maybe, you understood by yourself 😁!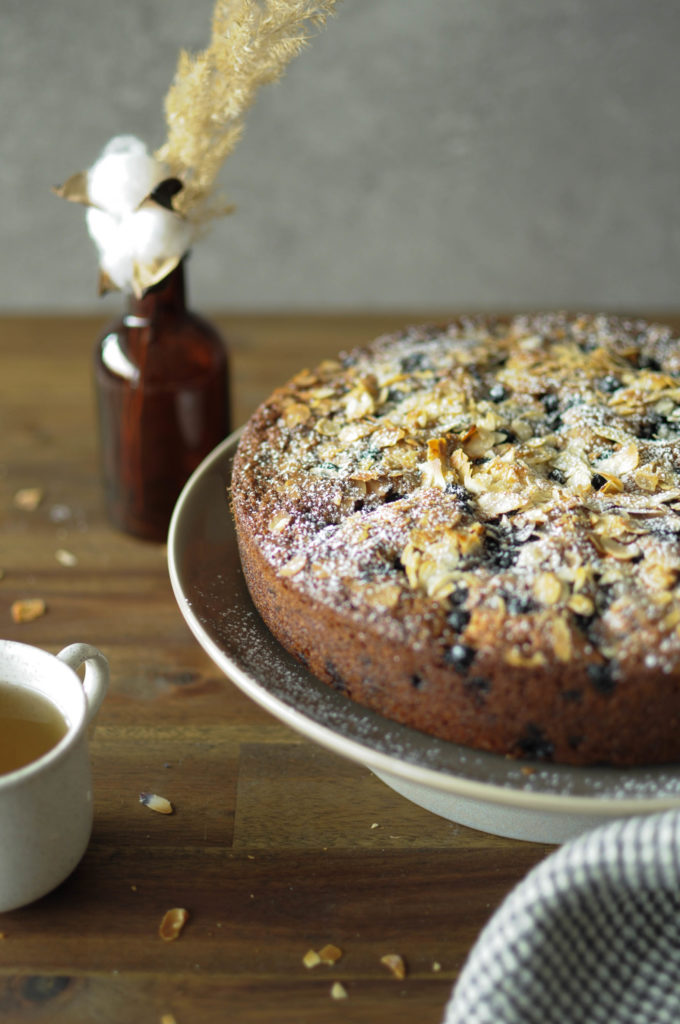 Let's go back to the recipe!
I was looking for a simple cake. I wanted to bake it with my Little one, and wishing for some changes. This coconut, almond and blueberry cake achieve all of my targets. And blueberries are national fruits here in Finland, so we tried it and we loved it!
It's cake with a lot of taste, it's soft, but a bit of crispiness on top because of the flaked almonds. It's sweet however you feel the acidity brought by the lemon zest. You understand again, it's a perfect cake by the master Ottolenghi (yes maybe I'm going a bit far, but I can't help it, I'm a groupie 🤷‍♀).
I tell you again, it's simple and quick to make. You can ask you little one's help if you want. But it's a cake, nothing healthy here, there is butter and sugar. And few more ingredients, which make it soooo good!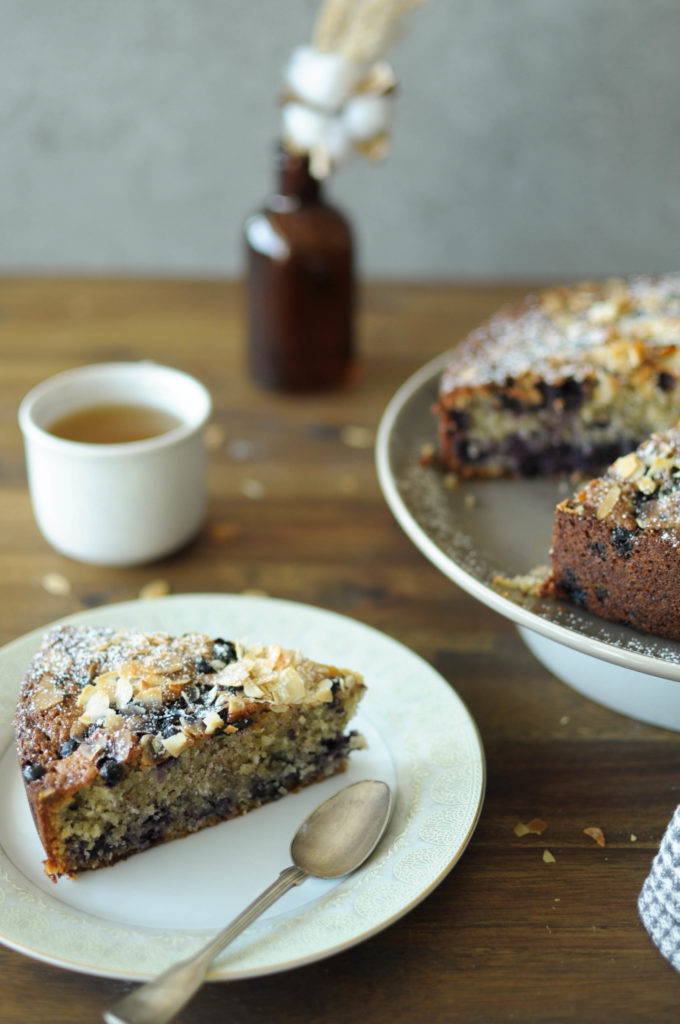 Coconut, almond and blueberry cake
Ingredients
180

g

ground almond

60

g

dessicated coconut

200

g

caster sugar

(250g in the original recipe but 200g was enough for me)

65

g

flour

5

g

baking powder

(or 1 tsp)

¼

tsp

salt

4

eggs

200

g

unsalted butter, melted and set aside to cool at room temperature

1½

tsp

vanilla extract

Zest of 2 lemons, finely grated

200

g

blueberries

(Ottolenghi uses fresh blueberries but out of the season you can use frozen one)

20

g

flaked almond
Instructions
Grease and line with baking paper a 23cm round cake tin. Preheat the oven at 180°C.

Place the ground almond, coconut, flour, baking powder and salt in a large mixing bowl. Whisk well until you don't have any lumps.

In a separate bowl, whisk the eggs. Add the butter, vanilla extract, lemon zest and whisk again until well combined.

Pour this liquid mix into the dry ingredients and whisk to combine.

Add carefully 150g of blueberries with a spatula (you want to keep them whole as much as possible). Pour this mixture in the cake tin.

Sprinkle the 50g remaining of bluberries and flaked almonds on top of the cake.

Bake in the oven for 50-55 minutes. A knife inserted in the middle of the cake has to come out clean.

Set aside at least 30 minutes before you remove the cake from the tin.
Ottolenghi suggests to serve this coconut, almond and blueberries cake either warm with cream or at room temperature. We choose the second option and it was perfect. You can keep it in an airtight container up to 2-3 days at room temperature. Not in the fridge it would make the cake harder.
Don't hesitate to share what you have thought about it! Personally I'll have another slice…🤤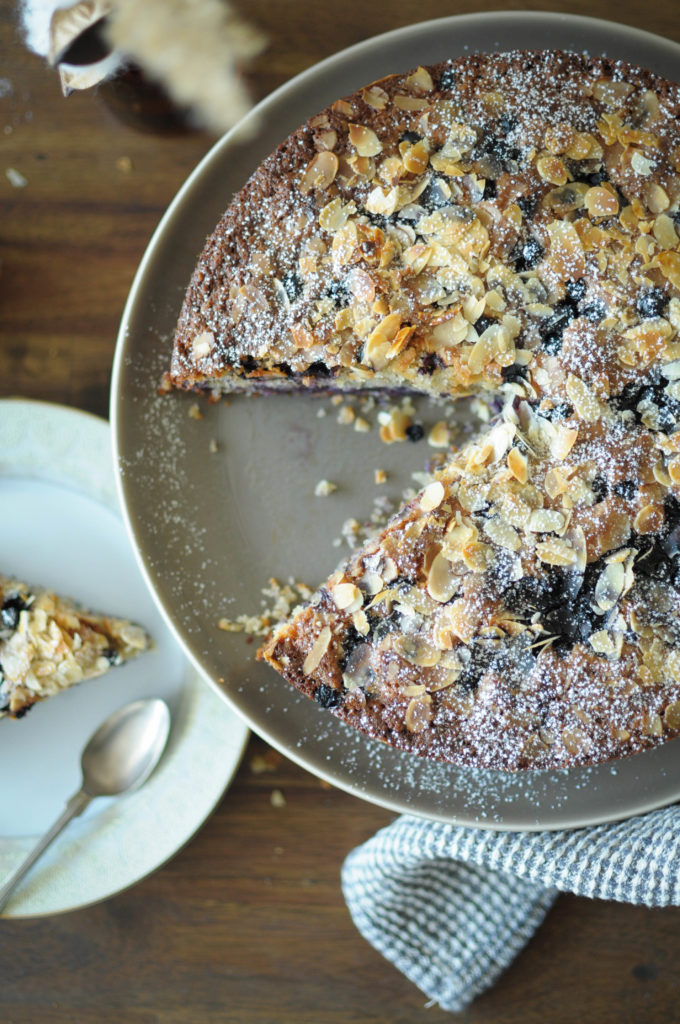 ---
---