Emmental and Hazelnuts Crispy Biscuits
In december, I always bake a selection of bredeles (traditional Christmas biscuits from the Alsace region in France) that I choose with attention every year. I then offer them in little bags to our family and friends, it always makes everyone happy (me included!). Moreover, at home we can treat ourselves with the ugly ones leftovers who are not allowed to go in the bags (and now Mister is happy as well😁 ).
Last year, my mum offered me a great cookbook about savory bredeles, by Thierry Mulhaupt. And as a fan of all kinds of salty snacks (you already know that). This book is treasure! I have tried some recipes already, and today I want to share one of them with you. Simple and really tasty: emmental and hazelnuts crispy biscuits. But why is she talking about Christmas biscuits now that Spring is finally here 🤔 ?? Because as you can see, I certainly won't wait until next December to eat them again!
I have adapted the recipe to the content of my cupboards. Originally, they are made of hazelnuts, gruyère and Maldon smoked salt. But as I didn't have these last two at home, I used halzenuts, emmental and simple flake salt (from l'Île de Ré, thanks to our friends ;)). Moreover, I don't like too much smoked flavors to be honest so for me it was totally fine like that.
You can serve these biscuits as an appetizer, salty snacks, for a picnic or to change from sweet snacks for children (for the latter you can reduce the quantity of salt a bit). This is the second recipe salty biscuits on the blog, find the first one here. But their textures are different, this one are flaky and I love it. So what you can do is to try both recipes and you come back and tell me which one is your favorite!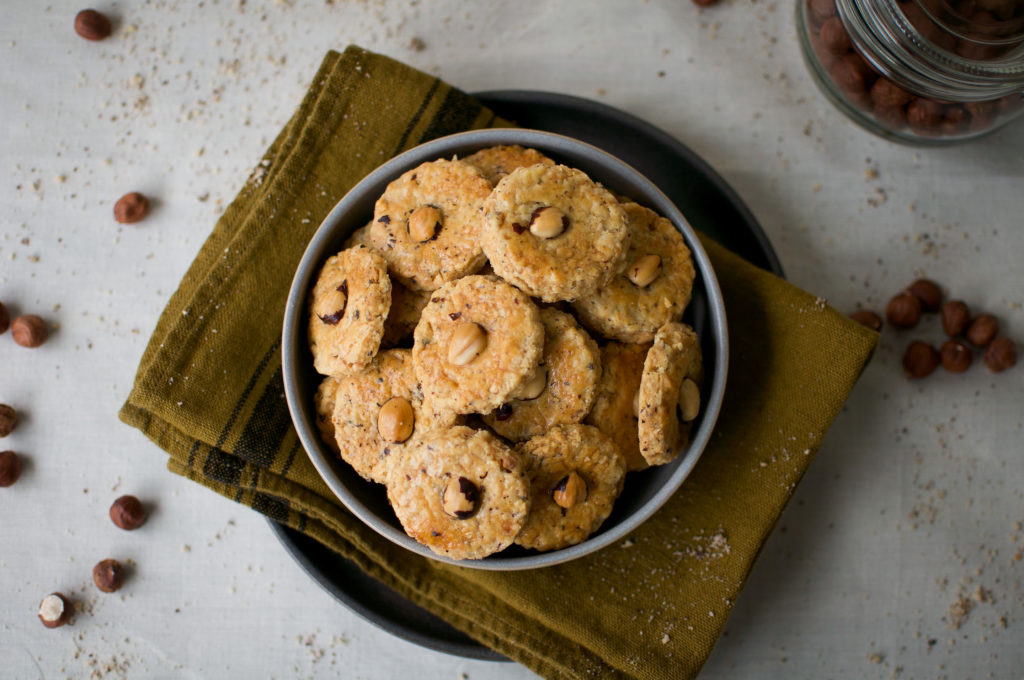 Emmental and Hazelnuts Biscuits
Ingredients
160

g

flour

125

g

butter at room temperature

4

g

sea salt flakes

(or Maldon smoked salt)

20

g

egg yolk

(about 1 egg yolk)

160

g

grated emmental

70

g

hazelnuts roughly chopped

(and few whole one for decoration)

1

egg for brushing
Instructions
In the bowl of a standing mixer, put the flour and butter together and mix a bit until you all the big chunks of butter are gone. Then, add the rest of the ingredients and mix (without over mixing), until you obtain a nice ball of dough.

You can totally make the dough by hand, the process is the same.

Wrap the dough in cling film and let it rest in the fridge for 1 hour.

Roll out the dough to a 5 mm thickness (mine are a bit thinner, I prefer it like that ;))

Cut the biscuits with a cookie cutter and put them on a baking tray covered with baking paper. Put the offset together and roll out again.

Preheat the oven at 160°C.

Brush the biscuits with an egg and put half of an hazelnut on top of each biscuits. Cook for 25 minutes.
And now you are ready to have something different than crips and peanuts for the aperitif! Enjoy 🙂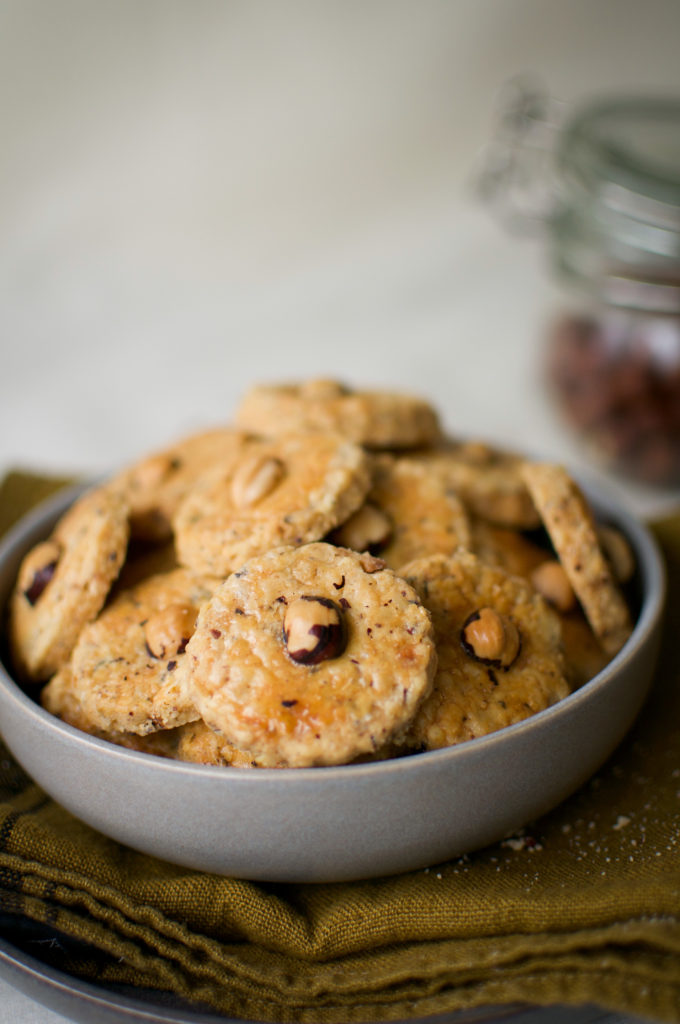 ---
---