Red Lentils and Roasted Cauliflower Dhal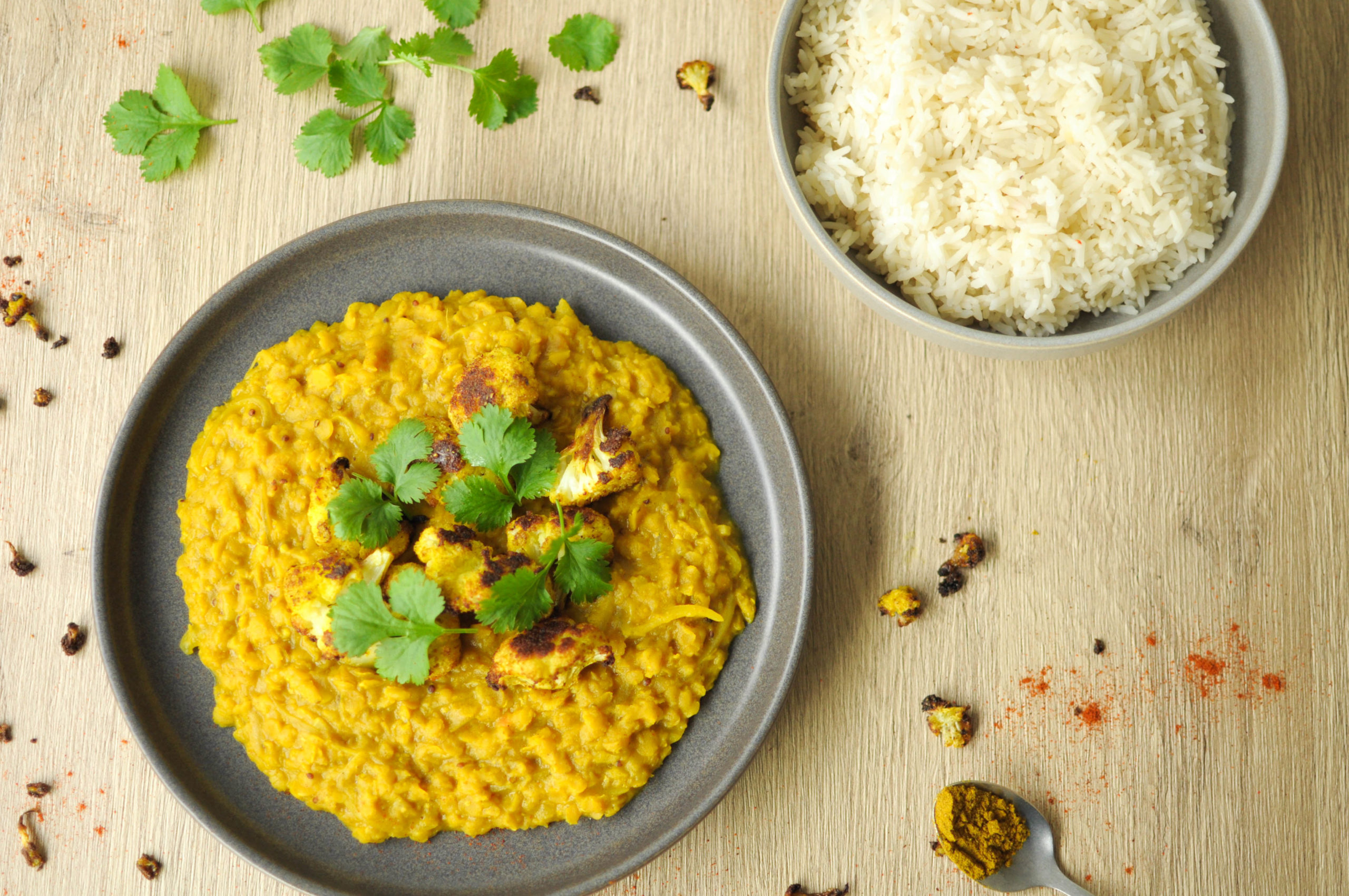 I can't remember my first time eating a dhal… It was not something usual at home when I was a child. But since I tried it, I often put it on my table. Today I want to share a red lentils and roasted cauliflower dhal. But there is a lot of different versions of dhal. You could use green lentils for example. You can use the blend of spices that you prefer, or add vegetables. I'm pretty sure you will find the one for you :)!
Once more, a bit of history…
Dhal, or dal, originates from India. It's a dish made from dried pulses, kind of a thick soup. Traditional recipes usually includes tomatoes, onions and spices. Dhal is served with rice or Indian flat bread as naan or chapati. Then, as mentioned above, each part of India has its own recipe with its own particularities. To serve with the dhal, you can add fried onions, or fresh herbs like coriander, and nuts, like cashew, for my pleasure :D!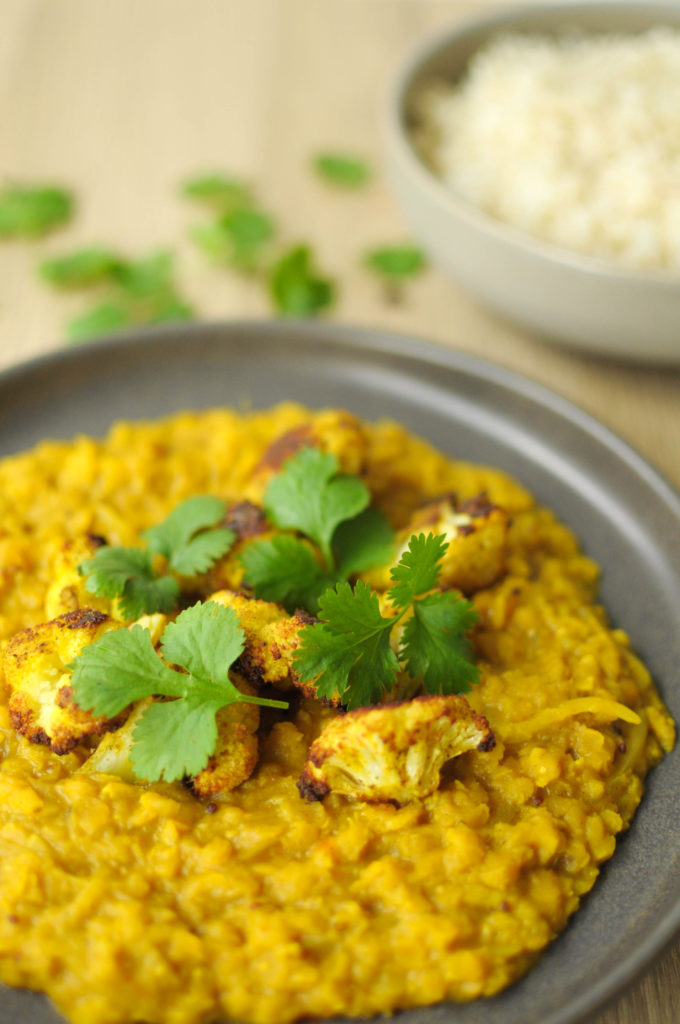 You will love it!
The recipe I want to give you today is a simple one (as usual now!!). It's from a french magazine called Saveurs Greens. You can easily cook it during the week when you don't have too much time ahead. It's quick to make and you will love it, I'm sure about it! It's made of red lentils and roasted cauliflower with curry, a delight! If the list of ingredients seems big to you, don't be scared it's mostly spices!
Red Lentils and Roasted Cauliflower Dhal
Ingredients
200

g

red lentils

400

g

cauliflower

2

onions

2

gloves

of garlic

3

cm

of fresh ginger

2

tsp

ground turmeric

3

tsp

curry powder

1

tsp

paprika

1

tbsp

ground cumin

1

tsp

wholegrain mustard

20

cl

coconut milk

Olive oil

Fresh coriander
Instructions
Preheat the oven at 200°C.

Cut the cauliflower into florets and put it on a baking tray lined with baking paper. Pour 3 tbsp of olive oil and 1 tsp of curry on top it. Season with salt and pepper and mix well to cover all of the florets. Cook in the oven for 30 minutes. Stir once during the cooking.

Peel and slice the onions and garlic. If you prefer you can use a garlic press. Peel and grate the ginger.

Heat 2 tbsp of olive oil in a pan. Add the onion and garlic. Cook for few minutes.

Add the spices and ginger. Cook for two more minutes. Add the mustard, lentils, coconut milk and 50 cl of water. Add a bit of salt and cook with a lid on for 25 minutes. Stir regularly to avoid the dhal to attach. If it becomes too thick, add some water.

When the cooking has ended, put the dhal in 4 bowls. Add the cauliflower on top of it and few leaves of coriander. Serve it with naan, chapati or rice.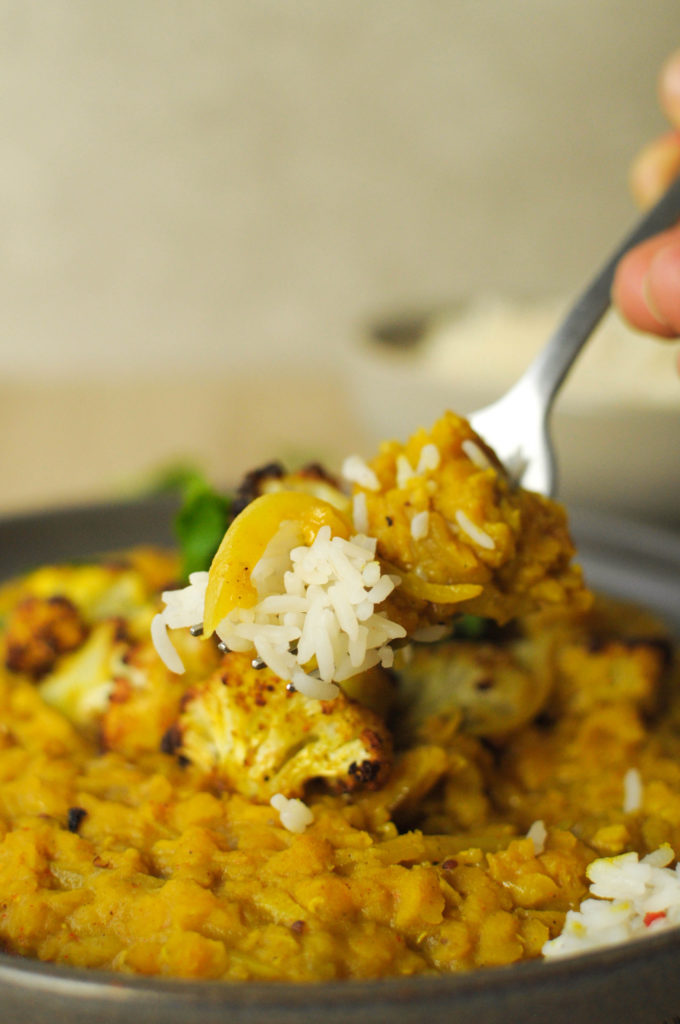 Well, we had some fun with Mister taking this picture of flying coriander! I don't even dare to tell you how much pictures we took to obtain this average result…! I will keep going on practicing and I will succeed one day ;)!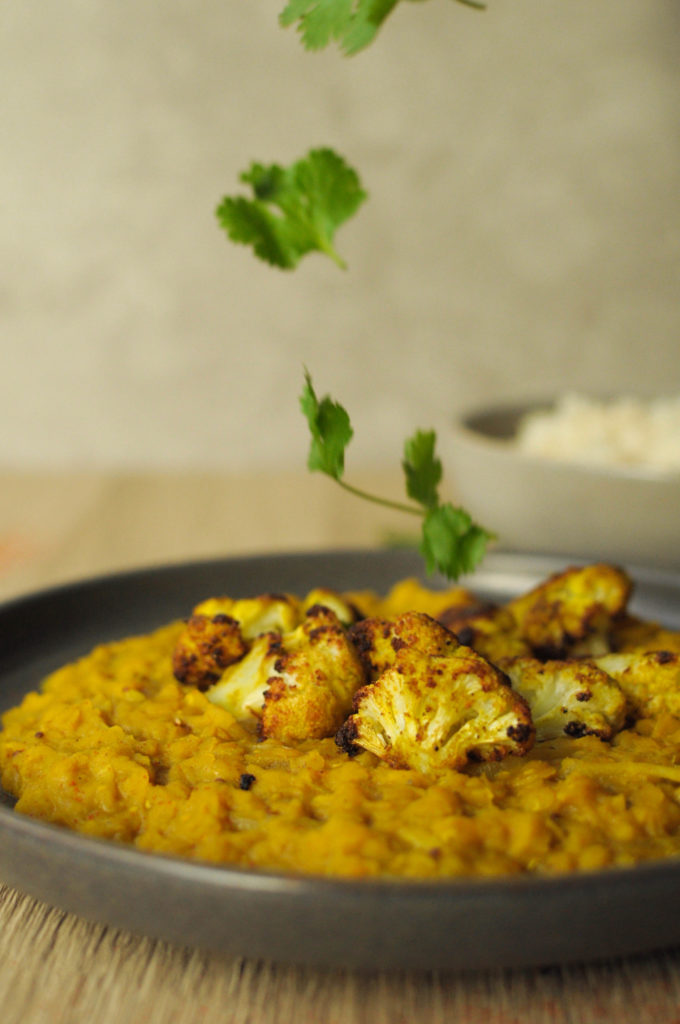 Meantime, I wish you bon appétit and you can simply sprinkle coriander on top of you dhal, the taste will be the same, I promise ;)!
---
---