Strawberries Tart with Almond Cream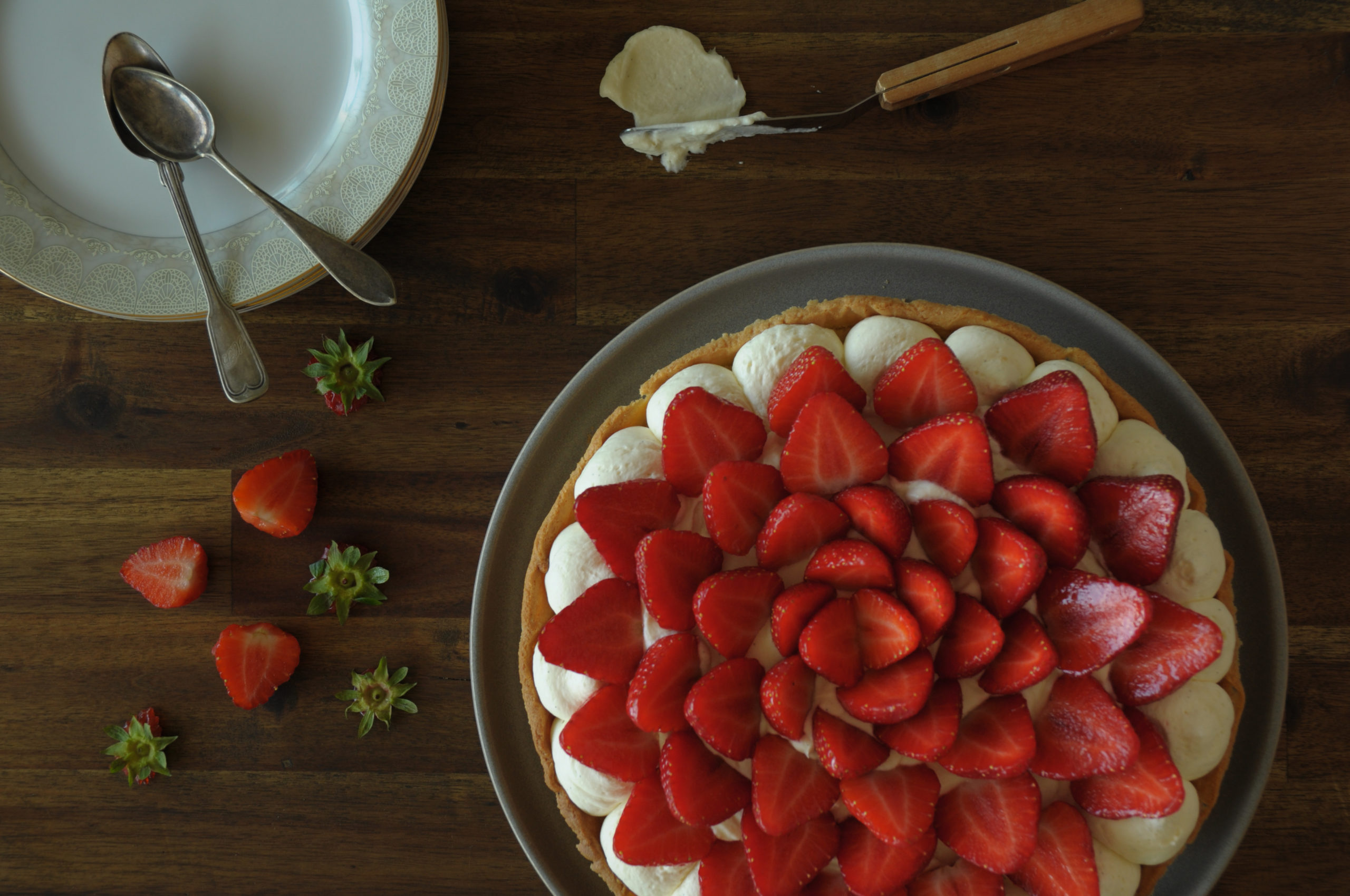 Today I would like to share with you a Cyril Lignac-style strawberries tart recipe. Strawberries and berries are widely consumed in Finland during summer and I admit that we treat ourselves as well! We love strawberries served as a simple dessert as much as on a fancy tart with almond cream and whipped cream with mascarpone and vanilla… If we are honest, it's tempting isn't it?!
Just this once, two sweet recipes in a row! I do my best to share sweet and savory recipes to help you find your daily menu. But the truth is that I find pastry often easier to photograph (I'm practicing I promise!). And of course taking a picture of a ready meal on the table is not easy when you have two empty stomachs not really patient at home… You see what I mean ;)!
Anyway, this is a pastry recipe that requires time. But if you like baking, you won't be disappointed. The almond taste goes very well with the strawberries and the vanilla whipped cream adds creaminess and "lightness".
In France, the only problem at the the moment is that turning on your oven can be torturing yourself right now. But in Finland the temperature is 20°C so it shouldn't be a problem! Strawberries are still in season but not for long so hurry up to try this recipe and enjoy!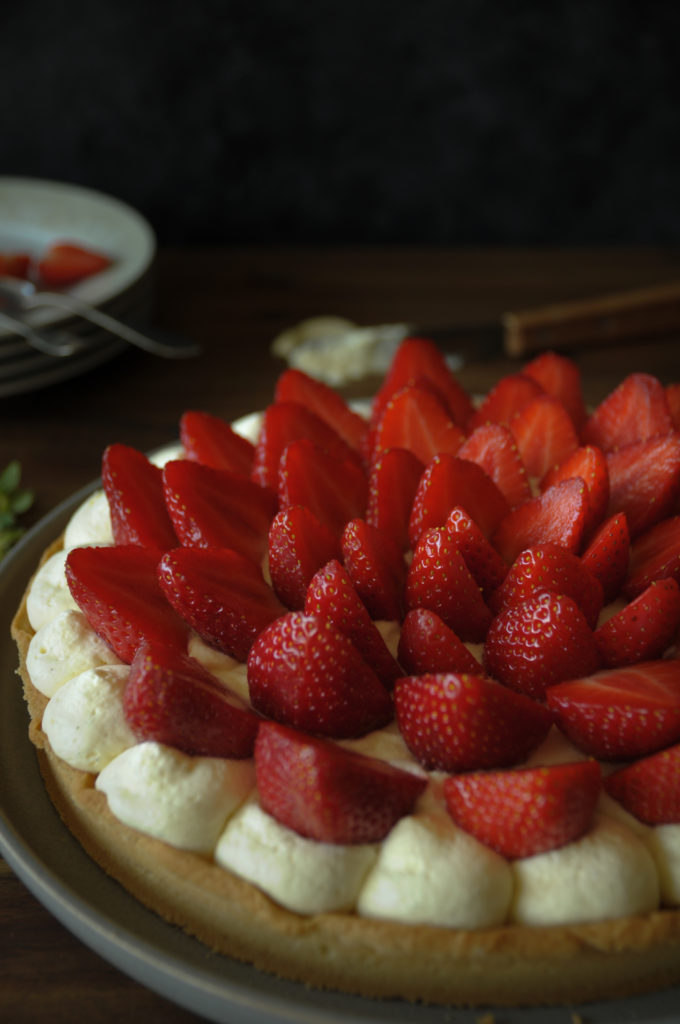 Strawberries Tart with Almond Cream
Ingredients
Sweet shortcrust pastry
95

g

soft butter

90

g

icing sugar

50

g

corn starch

30

g

ground almond

180

g

flour

1

egg

1

pinch

of salt
Almond cream
65

g

soft butter

80

g

ground almond

1

oeuf

50

g

icing sugar
Vanilla whipped cream with mascarpone
300

ml

double cream

100

g

mascarpone

100

g

caster sugar

1

vanilla pod

(or 1 tsp of vanilla extract)

500

g

fresh strawberries
Instructions
In the bowl of your stand mixer with the flat whisk, or in a bowl using a spatula, cream together the butter and icing sugar.

Add the ground almonds, flour, cornstarch and a pinch of salt and mix the dough slightly.

Add the egg and knead until you get a ball of dough without overworking the dough.

Put the dough in clingfilm and leave to cool for at least 30 minutes.

Preheat the oven to 160°C.

After this resting time, roll the dough and line a tart ring or a tart case around 26cm. Line the tart with parchment paper and dried beans (or ceramic balls) and bake for 20 minutes in the oven.
Almond cream
Cream the butter and icing sugar. Add the egg and mix well with a whisk. Finally add the ground almond and mix until you obtain a homogeneous mixture.

Spread this almond cream on the pre-baked tart base and bake for 10 minutes at 160°C.
Vanilla whipped cream with mascarpone
In the bowl of the mixer with the whisk, put the double cream, mascarpone, sugar and vanilla seeds from the bean (or the vanilla extract). Whisk starting at low speed. Gradually increase the speed and whisk until you obtain a firm cream.

Finally assemble the tart.

Put the whipped cream on the cooled tart base. You can do it with a spatula or with a piping bag, as you prefer ;). Place the strawberries cut in half or quarters harmoniously on top of the cream. (I cut the strawberries in half but next time I will cut them in 4, it will be easier to eat. Indeed cutting a strawberry with a spoon is not easy!!)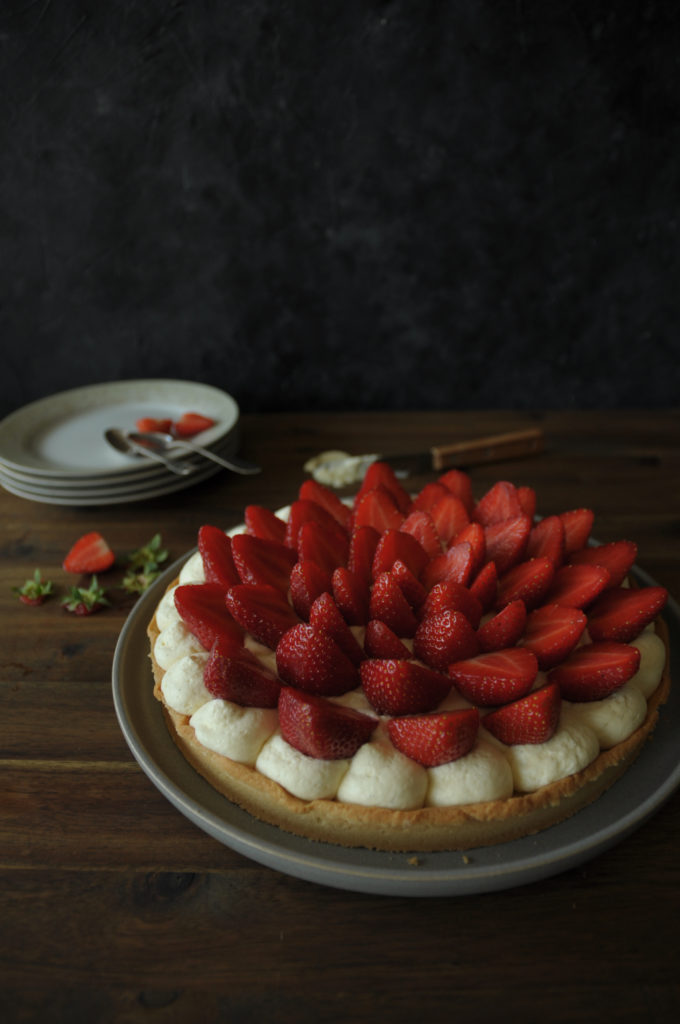 The recipe seems a bit long but believe me if you follow each step at your own rhythm, everything will be fine! And don't forget that I am here to help you if needed!
Everyone approved it at home, our Mini loved it, I had to hide a piece for me to be able to enjoy it later!
Enjoy it, and enjoy summer treasures!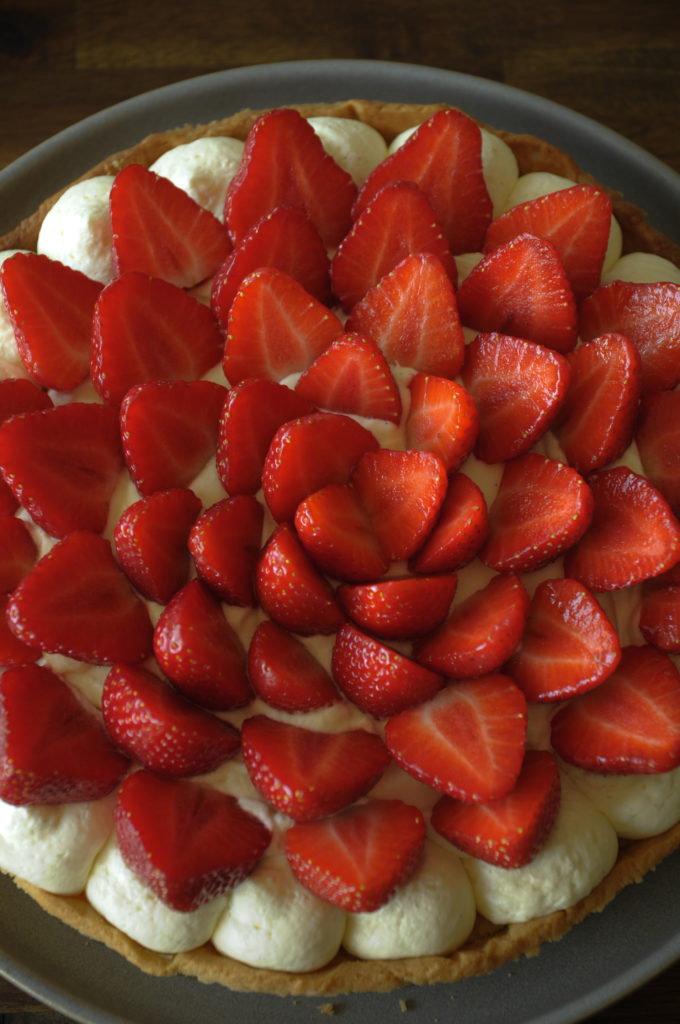 ---
---